Passport to Pimlico ***** (1949, Stanley Holloway, Margaret Rutherford, Betty Warren, Barbara Murray) – Classic Movie Review 47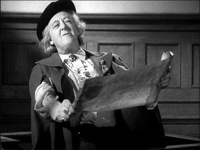 Stanley Holloway and Margaret Rutherford – classic British comedy bliss! Ealing Studios turned the British nation's post-World War 2 austerity troubles with government red tape and ration books into this 1949 vintage comic fantasy about the people of Pimlico discovering an ancient treaty that shows Burgundy owning a bit of London and that Pimlico is supposedly actually part of France.
An unexploded World War Two bomb goes off in the London area, and a treasure trove reveals documentary evidence of this unexpected news. So the people of Pimlico declare independence, set up barriers and, of course, establish the need for passports to get in an out. Best of all, within their boundaries, they can happily escape Whitehall's rules of austerity living in Britain in 1949.
Life in Pimlico is sweet, they're free, there are no taxes, no restrictions, no laws, well at least for a happy moment. 'Blimey, I'm a foreigner,' says police constable Spiller (Philip Stainton, the police the sergeant in The Ladykillers).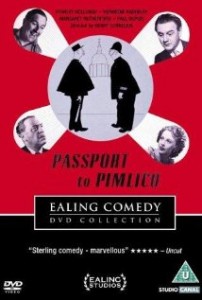 But then the restrictive UK Government doesn't care for acts of independence at all and responds with a boycott and border controls, cutting of supplies top Pimlico till the locals come back to their senses. But every act has an equal and opposite reaction: the people of Pimlico unite to fight back.
Inspired by the then contemporary real-life Berlin Blockade of 1948-49, and gleefully making a breezy entertainment out of a very serious international situation, this unique idea represents a delightful piece of wishful thinking. And inspired Ealing expert writer T E B Clarke (who won an Oscar for The Lavender Hill Mob) develops it into a screenplay that is exceptionally adroit, witty, nimble and funny. A little diamond of a script, in fact. It was Oscar nominated.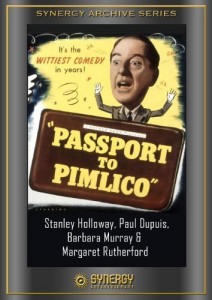 A great vintage cast ensures delightful performances by everyone from Stanley Holloway as fish-shop owner Arthur Pemberton and Margaret Rutherford (in a part written for a man) as history don Professor Hatton-Jones; from Betty Warren and Barbara Murray as Connie and Shirley Pemberton to John Slater and Raymond Huntley as Frank Huggins and Mr Wix. Paul Dupuis plays the Duke of Burgundy and Basil Radford and Naunton Wayne (cricket-obsessed duo Charters and Caldicott in The Lady Vanishes) are Gregg and Straker.
It is the film debut of director Henry Cornelius, who most notably went on to make Genevieve in 1953. He died at only 44, having directed only five films, but can still be called one of the great British directors.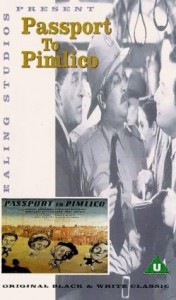 Ironically, it was filmed a mile away from Pimlico in Lambeth, where a huge outdoor set was built of a bombsite, now the site of 60s council flats. Why didn't they just call it Passport to Lambeth?
Happily, time has only added to the allure of this superb, polished comedy gem.
Other essential vintage Brit comedy favourites: Kind Hearts and Coronets, The Lavender Hill Mob, Genevieve, The Ladykillers, The Maggie, The Titfield Thunderbolt, Whisky Galore.
© Derek Winnert 2013 Classic Movie Review 47
Check out more reviews on http://derekwinnert.com/