The Ladykillers ***** (1955, Alec Guinness, Peter Sellers, Cecil Parker, Katie Johnson, Herbert Lom) – Classic Movie Review 36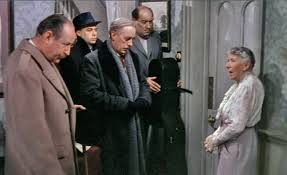 Packed with memorable characters and performances, Ealing Studios' 1955 black comedy delight is deliciously funny throughout, enthusiastically written by William Rose and eagerly directed by Alexander Mackendrick.
Like an English tea with strawberries and cream, it all should seem ultra-cosy and nice, but, with its cynical, unsettling air of menace, it never is. Katie Johnson, who made her first film in 1932, finally became a star at the age of 77 as the sweet little old London landlady Mrs Wilberforce who unwittingly takes in a little band of crooks as lodgers.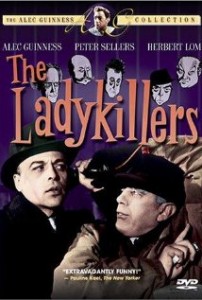 In Rose's scintillating vintage story, she rumbles then puts a stop to the little plans of her new creepy, toothy lodger Professor Marcus (Alec Guinness) and his comic gang of inept villains, Harry, Claude, Louis and One-Round (Peter Sellers, Cecil Parker, Herbert Lom, Danny Green).
The gang, pretending to be a string quintet practising their music and playing Boccherini, is planning a £60,000 great train robbery and is hiding out at Johnson's down-at-heel boarding house at a run-down King's Cross, London. They trick Mrs Wilberforce into picking up the loot, but later she finds it, and they reluctantly decide they have to kill her. There's just one snag: who's going to do it? Instead they start bumping each other off.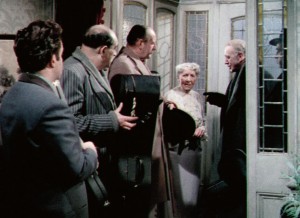 The clever, witty script, which came to writer Rose intact in a dream, is seemingly cosily British but is topped up with a touch of real venom that provides the film's true, hard-hearted character. It proved to be the last great Ealing comedy, performed up to the max by the highly distinguished cast of comic actors, working with the utmost finesse, delicacy and practised ease.
Cinematographer Otto Heller's Technicolor filming on now largely vanished King's Cross locations adds immeasurably to the atmosphere and pleasure the film brings. Tristam Cary's score is a little gem and that music you hear played is Luigi Boccherini's Minuet from Quintet in E major, Opus 11 No 5.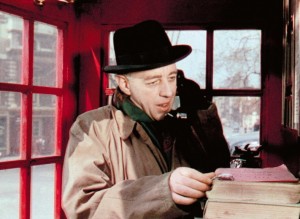 A delicious movie to treasure and see every time it pops up on TV, this British national monument should have a Grade One listed preservation order slapped on it. Only one other film has achieved this perfect mix of gentility, charm and gleefully cynical black comedy: Arsenic and Old Lace.
Johnson, who offered to pay her own insurance to secure the role of Mrs Wilberforce, won a BAFTA award for Best British Actress, going on to just one more part in How to Murder a Rich Uncle. Watch out for appearances by Brit luminaries of the day like Jack Warner (the police superintendent), Philip Stainton (the sergeant), Frankie Howerd (the barrow boy), Kenneth Connor, Stratford Johns, Harold Goodwin, Sam Kydd and Arthur Mullard.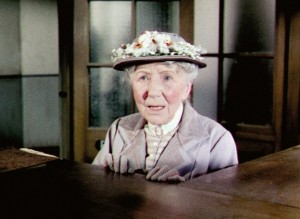 Guinness based his performance on fellow actor Alastair Sim and the waspish drama critic Kenneth Tynan, who had probably given him a bad review one time or another. It was poorly remade and Americanised in 2004 by the misguided Ethan Coen and Joel Coen.
It won totally deserved BAFTA British Film Awards for Best British Actress and Best British Screenplay, but shamefully there were no Academy Awards and only one Oscar nomination for the screenplay.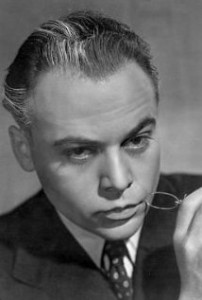 Herbert Lom died on aged 95.
© Derek Winnert 2013 Classic Movie Review 36
Check out more reviews on http://derekwinnert.com/