The Lavender Hill Mob ***** (1951, Alec Guinness, Stanley Holloway, Sidney James, Alfie Bass) – Classic Movie Review 121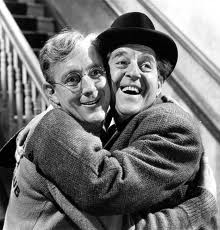 This marvellous, splendidly quirky, constantly amusing Ealing Studios classic comedy, the only one of their famous comedies ever to win an Oscar, is deliciously realised in exuberant high style by director Charles Crichton. It was also honoured with the British Film Academy award for best British film of 1951.
It catches Alec Guinness at his eccentric comedy best as Henry Holland, a mousy, slightly creepy bank teller who's worked too long in the job, 20 long, boring years. He fancies a happy retirement, a rich one. He's always been meticulous as the bank's transfer agent for the delivery of gold bullion.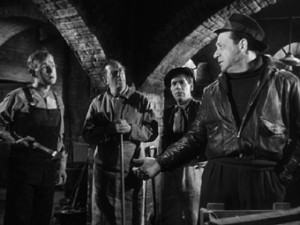 But all that changes when he meets a man called Alfred Pendlebury (Stanley Holloway), whose business is making souvenirs, specifically paperweights in the shape of the Eiffel Tower. Holland comes up with the idea that they could turn gold bars into souvenirs using Pendlebury's smelting equipment and smuggle the gold to France.
And so Holland devises what he thinks is a perfect plan to rob his own bank by intercepting an armoured-car shipment of $3million in gold bars. Holland and Pendlebury realise they need help so they plot deviously to recruit the aid of a couple bumbling professional crooks, Lackery (Sidney James) and Shorty (Alfie Bass), thus forming The Lavender Hill Mob.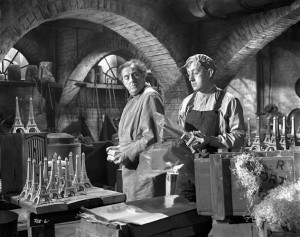 The gold successfully nicked, the quartet melt the bars into toy models of the Eiffel Tower as planned, and ship them over to France. They're totally, deliriously happy. But then trouble starts when English schoolgirls on holiday in Paris unwittingly buy them as souvenirs.
The Lavender Hill Mob is a total triumph for writer T E B Clarke, who won an Oscar for his witty, clever best original story and screenplay that's wry and whimsical but with an intriguing slightly surreal spin. He also won Best Screenplay at the Venice Film Festival.
But it's also memorable for the delicious performances of the beloved British actors who serve his yarn so brilliantly. Guinness and Holloway form a fine, sympatico double act and all the four main stars are national treasures.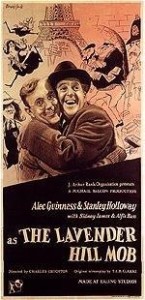 The 22-year-old Audrey Hepburn appears as Chiquita in the first year of her movie career. The debut of future famous name Robert Shaw, aged 24, as a chemist at the police exhibition. Two stars are born!
To explain the title, Holland lives in a seedy boarding house on the Lavender Hill street in South London, near Clapham Junction.
© Derek Winnert 2013 Classic Movie Review 121
Check out more reviews on http://derekwinnert.com