A Run for Your Money *** (1949, Donald Houston, Meredith Edwards, Moira Lister, Alec Guinness) – Classic Movie Review 6305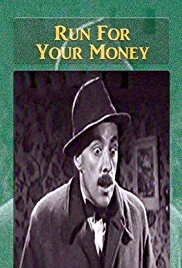 Co-writer/ director Charles Frend's modest but amiable 1949 British comedy stars Donald Houston and Meredith Edwards as Welsh coal-mining brothers David 'Dai Number 9' Jones and Thomas 'Twm' Jones.
The duo come to London to support their rugby-playing heroes and get involved in comic misadventures, much to the chagrin of nervy newspaper writer Whimple (Guinness), the gardening columnist who has been assigned by his editor (Clive Morton) to look out for the guys and keep them in check.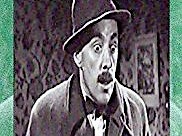 Though it lacks the bite and brio of the best of the Ealing studios comedies, it is still warm and tremendously well acted, with a fine gallery of characters and actors to play them: money-grabbing Londoner Jo (Moira Lister) who tries to con the gullible Dai out of his $200 prize money, the once-famous poet Huw (Hugh Griffith) and Mrs Pargiter (the ever-excellent Joyce Grenfell), all pitching in strongly in fine support.
It is co-written and produced by the late film critic Barry Norman's father, Leslie. The original screen story is by Clifford Evans.
Also in the cast are Clive Morton, Julie Milton, Peter Edwards, Leslie Perrins, Dorothy Bramhall, Edward Rigby, Desmond Water-Ellis, Mackenzie Ward, Meadows White, Gabrielle Brune, Ronnie Harries, Diana Hope, Dudley Jones, David Davies, character actor Tom Jones (as Elderly Miner), Richard Littledale (as Cinema Mananger), Marianne Stone, Patric Doonan and Charles Cullum.
It had a lot to live up to as the fourth Ealing comedy to be released in 1949 following all-time great classics Passport to Pimlico (1949), Whisky Galore (1949) and Kind Hearts and Coronets (1949). It just misses the mark.
It is written by Richard Hughes, Charles Frend, Leslie Norman and Diana Morgan, shot in black and white by Douglas Slocombe, produced by Michael Balcon and Leslie Norman, and scored by Ernest Irving.
© Derek Winnert 2017 Classic Movie Review 6305
Check out more reviews on http://derekwinnert.com