Genevieve ***** (1953, John Gregson, Dinah Sheridan, Kenneth More, Kay Kendall) – Classic Movie Review 187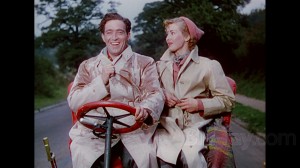 'Ambrose only seems to think about two things. That silly old car and the other thing.'
Ah, Genevieve. 'She'll have you rolling down the British Isles!' For once the advertising is true. This beloved 1953 film comedy from Henry Cornelius, the director of Passport to Pimlico, is a glorious highlight of Fifties British cinema and a guaranteed feel-good film and rib-tickler. An all-time-great, it won the 1954 Bafta award for Best British Film.
William Rose's wonderfully witty, Oscar-nominated story and screenplay tells the sweet tale of two contrasting couples (John Gregson and his wife Dinah Sheridan; Kenneth More and his new girlfriend Kay Kendall) who take part in the annual London to Brighton antique car rally on the weekend of 18-20 September 1953. It's actually held in November but they needed to imply a day of longer daylight for the story and I guess a summer's day looks better in the Technicolor. Genevieve might have been a dreary film in the November rain.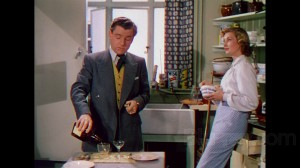 Alan McKim (Gregson) is a stiff-shirted lawyer and the owner of the old crock Genevieve. He and the boisterous Ambrose Claverhouse (More) are the best of friends, but they just help their eternal competitiveness flaring up. And, once they get to Brighton, Ambrose baits Alan into challenging each other with a friendly wager to see who can get back to London first.
So they set off home again, racing competitively back from Brighton to London in their veteran cars. Friendliness soon goes out of the car window. The men quickly let their desperate winning spirit get the better of them, while the women just have to put up with it, retaliating with no more than a gracefully aloof demeanour and a few snooty remarks.
This is Britain in the Fifties, remember. Alan's long-suffering wife Wendy (Sheridan) is painfully used to it by now ('this is the end, making a public spectacle of yourselves!'), but it comes as a bit of a shock for first-time traveller Rosalind (Kendall), an exceptionally feisty young woman.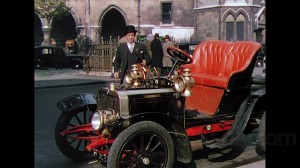 Ironic, then, that the two actresses provide much of the film's comic crackle as well as of course its glamour. More and Gregson have a lot of qualities but no one could accuse them being able to bring glamour to the table. Good though More (in his star-making role) and Gregson are, Sheridan and Kendall always give at least as good as they get.
The movie roars off delightfully in top gear from the starting line, fuelled by sparkling performances from the four stars and a wonderful supporting cast, Geoffrey Keen (copper), Reginald Beckwith, Arthur Wontner (old gentleman), Edie Martin (hotel guest), Michael Medwin (father-to-be) and Michael Balfour (trumpeter) among them. The acting, screenplay and direction never put a foot wrong. The gorgeous location filming with its Technicolor cinematography (by expert Christopher Challis) is not so much the icing on the cake as the cake itself.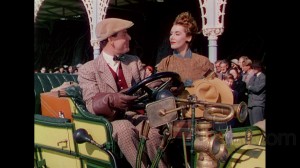 All the beautifully-polished components come together perfectly to produce a superlative British comedy gem, a Rolls-Royce experience. Among the film's many pleasures are the glorious Kendall in her prime, Joyce Grenfell's hilarious turn as a hotel proprietress, Kendall's shaggy old St Bernard dog and, especially, Larry Adler's famous, Oscar-nominated harmonious harmonica score, bringing the film its unique flavour and distinction.
Last survivor Dinah Sheridan passed away at 92 peacefully at her home surrounded by her family on 25 November 2012. Her role here is her lasting legacy, along with her star role in The Railway Children (1970).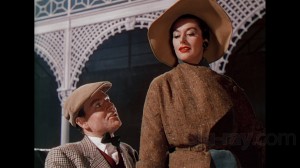 Adler's score replaced the original one by Graham Whettam. Adler's name was taken off the film in the US because he was blacklisted there by the sinister anti-left-wing, supposedly just Commie-bashing un-American Activities Committee.
Claire Bloom, Dirk Bogarde and Guy Middleton were first choices in the Sheridan, Gregson and More roles. It's alleged that both Sheridan and Kendall carried whistles to fend off the advances of an unhappy director Cornelius, upset at not working with Bloom and Bogarde and having to work with the Rank Organisation. He spread it around. All the stars were unhappy too and the Rank contract artist boss said the each asked her to release them from the film.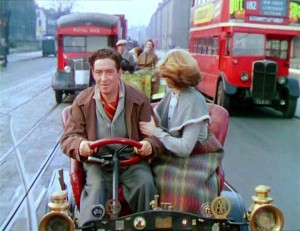 In real life, Gregson was a non-driver. The real car driven by Gregson was called Annie, but inevitably renamed Genevieve afterwards, and it went on to participate in many London to Brighton rallies.
Amazingly for such a good-natured film, it ran into issues with the censor in the US, who objected to hints of a dirty weekend and a reference to 'spending a penny'. You couldn't mention going to the toilet in American films at that time! Happy days!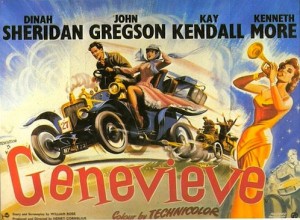 Other vintage Brit comedy favourites: Kind Hearts and Coronets, The Lavender Hill Mob, Passport to Pimlico, and The Ladykillers (1955).
© Derek Winnert 2013 Classic Movie Review 187
Check out more reviews on http://derekwinnert.com/