The Lady Vanishes ***** (1938, Margaret Lockwood, Michael Redgrave, Paul Lukas, Dame May Whitty, Basil Radford, Naunton Wayne, Cecil Parker, Linden Travers, Catherine Lacey, Googie Withers, Mary Clare) – Classic Movie Review 118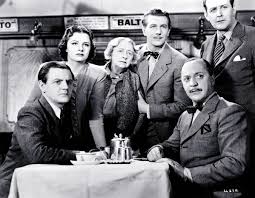 Fighting off strong competition from The 39 Steps, the 1938 treasure The Lady Vanishes is (arguably) by a narrow margin Alfred Hitchcock's best British movie before he left for America to make Rebecca in 1940 and was lost to Hollywood. It's a divinely inspired comedy thriller that focuses on a trainload of British folks trying to escape back home just as war is breaking out.
It starts when they're delayed by an avalanche for a day while they're taking the trans-Europe train out of mountainous Mandrika. And they're forced to put up at a jam-packed inn, where they get to know each other a bit too well. Over-share, but they'll get through it in the proper British spirit.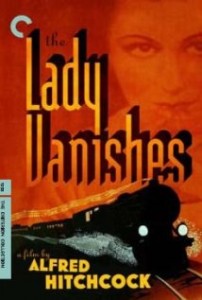 Next day it's all aboard for England and they optimistically set off. But, when fellow English passenger, Miss Froy (Dame May Whitty), who says she's a governess, vanishes on the trans-Europe train, a young English gel called Iris Henderson (Margaret Lockwood) whom she had tea with can't convince anybody that she was actually on the train and that Nazi spies are responsible for her disappearance. She was hit on the head by a flowerpot just before boarding the train, so everyone says that delayed concussion has started a delusion.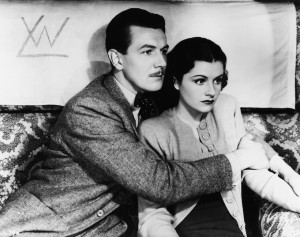 But, soon, Iris persuades her fellow passenger, handsome and charming wisecracking young musicologist Gilbert (Michael Redgrave), to believe her and they start to investigate. Eventually all the true British characters, including cricket-obsessed buffoons Charters and Caldicott (Basil Radford and Naunton Wayne), are fighting off the Nazi spies.
The performances are delicious, achieved with a breezy lightness of touch that is the equal of the best of the American sophisticated comedies of the 1930s. Ideally paired, delightfully polished Lockwood and Redgrave prove a perfect match, giving the brightest of performances. Lockwood is lovely and feisty: Redgrave smooth and charming. Both are at their peak. Radford and Wayne turn playing cricket bores into an art form, while Whitty charismatically steals all her scenes as the courageous spirit of Britain under attack.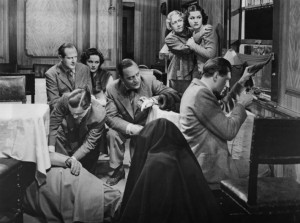 And then there are those awful foreigners like Dr Hartz (Paul Lukas) and (worse) the indifferent or scared British, like cowardly Mr Todhunter (Cecil Parker). These are certainly not men to have around you in a crisis. In a great ensemble cast of characters, Linden Travers's Mrs Todhunter, Catherine Lacey's rather unusual Nun, Googie Withers's Blanche and Mary Clare's Baroness are all essential passengers on the train.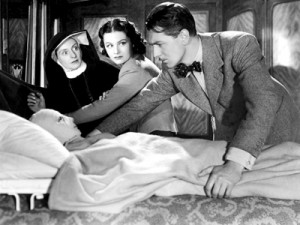 Based on Ethel Lina White's novel The Wheel Spins, Frank Launder and Sidney Gilliat's screenplay is one of those rare gems, astonishingly funny, exciting and resonant, and Hitchcock never once lets up on the dynamism till it's all over, attending to pace, detail and mood with the eye of the master that he was. The charmingly inadequate train model work aside, and actually even with that, this is a perfect film.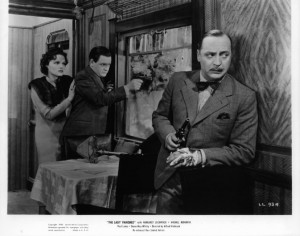 It was made at London's Lime Grove studios, later the home of the BBC. Radford and Wayne reprised their incredibly popular roles three more times, first in the similar Night Train to Munich, then in Crook's Tour and Millions Like Us, and made several other movies together.
Hitchcock said: 'The first script was written by Sidney Gilliat and Frank Launder, a very good team. I made some changes and we added the whole last episode. The climax was great and the build-up was very neat.' Hitchcock forgot to point out that his wife, Alma Reville, a dab hand at polishing up a script, did just that along with him, and she is credited for additional dialogue.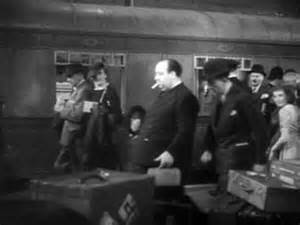 Hitchcock can be seen making his habitual cameo appearance at London's Victoria Station, wearing a black coat and smoking a cigarette, near the end of the film.
It was remade for absolutely no good reason (and horribly Americanised) in 1979 with Elliott Gould, Cybill Shepherd and Angela Lansbury as Miss Froy and again for TV by the BBC in 2013.
http://derekwinnert.com/the-39-steps-classic-film-review-119/
© Derek Winnert 2013 Classic Movie Review 118
Check out more reviews on http://derekwinnert.com/