Young at Heart **** (1954, Doris Day, Frank Sinatra, Ethel Barrymore, Gig Young, Dorothy Malone, Robert Keith, Elizabeth Fraser, Alan Hale Jr) – Classic Movie Review 6083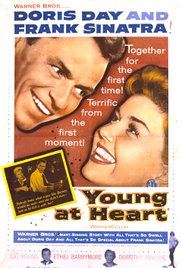 'Fairy tales can come true, it could happen to you…'
Sinatra stars as songwriter Barney Sloan, who romances New England maiden Laurie Tuttle (Doris Day), in director Gordon Douglas's highly appealing, attractive 1954 musical remake of 1938's Four Daughters.
Sinatra and Day make sweet music together in this exceptional musical with professional, sparkling performances from a delightful cast, a sparky screenplay and polished direction. Though old and feeble and resting between takes in a wheelchair, Ethel Barrymore is a treat on screen as auntie. Dorothy Malone and Elizabeth Fraser are excellent as the other daughters, Young is effective as man all three sisters fall for.
The tale from Fannie Hurst's short story Sister Act still has enormous charm and appeal, while the songs are a real treat. 'Young at Heart' (music by Johnny Richards, lyrics by Carolyn Leigh), 'Someone to Watch Over Me' (music by George Gershwin, lyrics by Ira Gershwin, memorably sung by Sinatra), 'Just One of Those Things', 'Make It One for My Baby (and One More for the Road)' (music by Harold Arlen, lyrics by Johnny Mercer) are three of the all-time greats.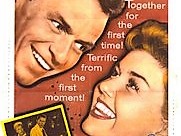 The screenplay is by Julius J Epstein, Lenore J Coffee and Liam O'Brien (adaptation). It is shot by Ted D McCord, produced by Henry Blanke, scored by Ray Heindorf and designed by John Beckman.
Sinatra threw his weight around, getting Day's husband/manager Martin Melcher banned from the Warner Bros lot during production and the meticulous Charles Lang replaced by Ted D McCord as director of photography. Old Blue Eyes liked just one take. [Spoiler alert] Sinatra also demanded the script was rewritten so that his character lives (the original played by John Garfield dies).
However, Sinatra liked director Gordon Douglas, and later filmed Robin and the 7 Hoods (1964), Tony Rome (1967), The Detective (1968) and Lady in Cement (1968) with him.
Dorothy Malone has an uncredited walk-on as a bridesmaid in Frank Sinatra's first major movie, Higher and Higher (1943).
© Derek Winnert 2017 Classic Movie Review 6083
Check out more reviews on http://derekwinnert.com