Robin and the 7 Hoods ** (1964, Frank Sinatra, Dean Martin, Bing Crosby, Sammy Davis Jr, Peter Falk) – Classic Movie Review 4777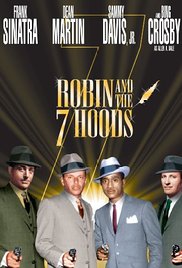 Damon Runyon meets the outlaws of Sherwood Forest in director Gordon Douglas's 1964 Rat Pack gangster movie spoof film version of Roaring Twenties Chicago, with Frank Sinatra (Ribbo), Dean Martin (Little John), Sammy Davis Jr (Will) Bing Crosby (as Alan A Dale) and Peter Falk (Guy Gisborne) among the do-gooding gangsters.
This time only three of the Rat Pack are present. Joey Bishop is absent and Bing Crosby replaces Peter Lawford after Sinatra fell out with him over the cancellation of visit to Sinatra's home by Lawford's brother-in-law, President Kennedy in 1962. In the screenplay by David R Schwartz, which starts with the bright and original idea of being both a gangster movie spoof and a Robin Hood movie spoof, two rival gangs compete for control of Prohibition-era Chicago's rackets.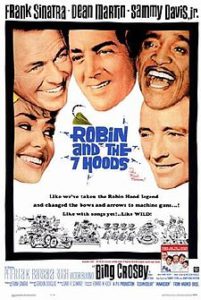 The easy-going performances from the iconic cast carry it along. The best of the rest is Victor Buono as Deputy Sheriff Alvin Potts. Also in the cast are Barbara Rush as an opportunistic Marian, Edward G Robinson (in an un-credited cameo as Chicago underworld boss Big Jim Stevens), Barry Kelley, Hank Henry, Robert Carricart, Allen Jenkins, Jack LaRue, Hans Conried, Sig Ruman, Robert Foulk, Sonny King, Phil Crosby and Phil Arnold.
There are some laughs and songs too, including the vintage Oscar-nominated Best Original Song 'My Kind of Town' by Jimmy Van Heusen (music) and Sammy Cahn (lyrics), which has stood the test of time better than the movie.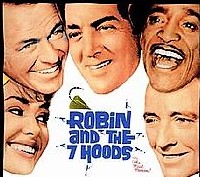 It is shot by William H Daniels, produced by Frank Sinatra, Howard W Koch and William H Daniels and scored by Nelson Riddle, who was also Oscar nominated for Best Music, Scoring of Music, Adaptation or Treatment.
Each of the Rat Pack films has a number in its title. The others are: Ocean's 11 (1960), Sergeants 3 (1962) and 4 for Texas with Frank Sinatra, Dean Martin, Anita Ekberg and Ursula Andress as the title four, Charles Bronson as a villain, and the Three Stooges as comedy relief.
Sinatra said: 'Of course they're not great movies, no one could claim that… but every movie I've made through my own company has made money.'
© Derek Winnert 2016 Classic Movie Review 4777
Check out more reviews on http://derekwinnert.com