Lady in Cement *** (1968, Frank Sinatra, Raquel Welch, Richard Conte, Martin Gabel, Lainie Kazan, Dan Blocker) – Classic Movie Review 3997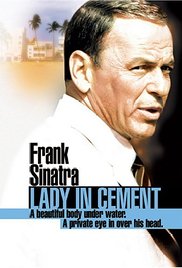 Frank Sinatra makes a welcome return to the role that suits him like a glove, the cool, cynical, world-weary Miami private eye Tony Rome, who finds the cement-shod body of a young woman during his morning swim in the ocean, in director Gordon M Douglas's enjoyable if lesser 1968 sequel to their previous year's hit Tony Rome. Marvin H Albert's follow-up novel by is adapted by himself and Jack Guss as screen-writers.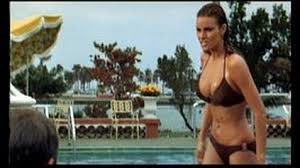 Richard Conte returns as Miami police detective Lieutenant Dave Santini, and there are also strong star supporting performances from Dan Blocker as the hoodlum Waldo Gronsky who hires Rome to find the girl's killer, Raquel Welch as a beautiful alcoholic called Kit Forrest, Martin Gabel as a Mafia boss named Al Mungar, and Lainie Kazan as Maria Baretto.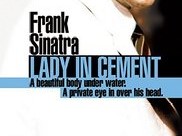 Lady in Cement is a busy, cynical and raw private eye detective thriller in the Raymond Chandler vein, with colourful Florida settings, powerful, quirky acting, notable cinematography (Joseph F Biroc) and score (Hugo Montenegro),  and, for its day, big doses of sex and violence.
Also in the cast are Joe E Lewis as himself, Richard Deacon, Pat Henry, Steve Peck, Virginia Wood and Frank Raiter.
Tony Rome appeared in three novels by Marvin H Albert in the early Sixties: Miami Mayhem (filmed as Tony Rome), Lady in Cement and My Kind of Game.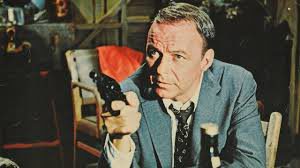 The in-jokes include: (1) Dan Blocker as Bronski is seen watching the TV show Bonanza, in which he starred as Hoss Cartwright. (2) Rome's taxi has an advert for Sinatra's fellow Rat Pack member, Dean Martin's restaurant on 79th Street Causeway. (3) Rome says he knew a girl that used to date bullfighters, a reference to Sinatra's ex-wife Ava Gardner's affair with a matador. (4) A band plays Sinatra's song You Make Me Feel So Young.
© Derek Winnert 2016 Classic Movie Review 3997
Check out more reviews on http://derekwinnert.com