The Keys of the Kingdom *** (1944, Gregory Peck, Thomas Mitchell, Vincent Price, James Gleason, Edmund Gwenn, Roddy McDowall) – Classic Movie Review 6125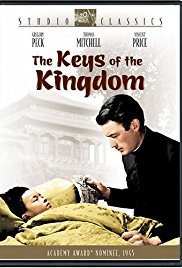 Gregory Peck is excellent in one of his five Best Actor Oscar nominated performances in director John M Stahl's 1944 drama. It was nominated for four Oscars, but there were no wins.
Running at 137 minutes, it is an over-extended and soporific adaptation of A J Cronin's novel about the life of a Scottish missionary, Father Francis Chisholm, played when young as a boy by Roddy McDowall and as an older man by the Oscar-nominated Gregory Peck. In Cronin's story, Father Chisholm struggles when he is sent to China to establish a Catholic parish.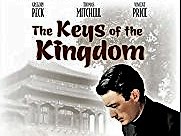 An involving cast – especially Thomas Mitchell, Vincent Price as monsignor Angus Mealey, James Gleason as American missionary the Reverend Dr Wilbur Fiske, and Edmund Gwenn as Father Hamish MacNabb – keep it ticking over. And Peck does manage to inject some life into his stolid but worthy role.
Also in the cast are Rose Stradner, Cedric Hardwicke, Peggy Ann Garner and Anne Revere.
It is written and produced by Joseph L Mankiewicz and Nunnally Johnson, shot in black and white by Arthur Miller, scored by Alfred Newman, and designed by James Basevi and William Darling.
It is only Peck's second movie, his follow-up to his 1944 debut in Days of Glory. Peck's Oscar nominations are for The Keys of the Kingdom (1944), The Yearling (1946) and Gentleman's Agreement (1947) and Twelve O'Clock High (1949). He won the Best Actor Oscar for To Kill a Mockingbird (1962).
© Derek Winnert 2017 Classic Movie Review 6125
Check out more reviews on http://derekwinnert.com