The Yearling **** (1946, Gregory Peck, Jane Wyman, Claude Jarman Jr, Chill Wills, Clem Bevans, Margaret Wycherly, Henry Travers, Forrest Tucker, Jeff York) – Classic Movie Review 3966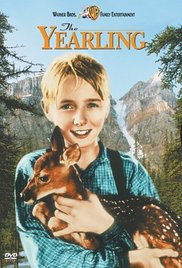 Director Clarence Brown's vintage, huge five-hankie 1946 family weepie is based on Marjorie Kinnan Rawlings's classic 1938 novel. Claude Jarman Jnr was awarded a miniature special Oscar on Academy Awards night for his deeply affecting and moving debut performance as Jody Baxter, the nice young son of poor farmers Ezra 'Penny' Baxter and his wife Ora (Gregory Peck and Jane Wyman).
The movie is a beloved double Oscar winner. It was MGM's most successful movie of the year, taking $7,599,000 on a cost of $3,883,000. Peck won the 1947 Golden Globe as Best Actor. It was was filmed in the Juniper Prairie Wilderness in the Ocala National Forest in Florida.
Alas, the sweet, if trouble-making stray deer the boy is so attached to and adopts didn't win an Oscar, but the cameramen and art/set directors did for Best Cinematography (Charles Rosher, Leonard Smith, Arthur E Arling) and Best Colour Art Direction-Interior Decoration (Cedric Gibbons, Paul Groesse, Edwin B Willis).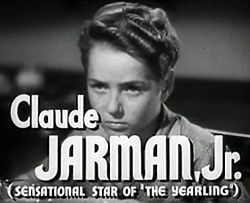 The attractive MGM Technicolor studio production and Peck's appealing, careful acting are further aces in the movie's hand. The heart-stopping moment when the boy finds the deer is the equivalent – and at least the equal – of that with the kid and extra-terrestrial in E.T. the Extra-Terrestrial (1982).
There were five other Oscar nominations: for Best Actor Peck, Best Actress Wyman, Best Picture, Best Director, Best Film Editing (Harold F Kress).
It also co-stars Chill Wills, Clem Bevans, Margaret Wycherly, Henry Travers, Forrest Tucker, Jeff York, and June Lockhart.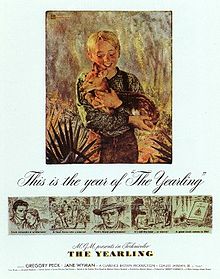 Also in the cast are Donn Gift, Frank Eldredge, Jane Green, Arthur Hohl, Victor Kilian, George Mann, Robert Porterfield, Houseley Stevenson, Joan Wells, Dan White, Matt Willis and Chick York.
A sudden insect swarm stopped the original 1941 production, which had started with Spencer Tracy and director Victor Fleming and had to be abandoned.
It was remade for TV in 1994 with Peter Strauss, Jean Smart, Wil Horneff and Philip Seymour-Hoffman.
The 11-year-old Claude Jarman Jr was discovered in an MGM nationwide talent search. When he was a late teenager, his career was already virtually over.
© Derek Winnert 2016 Classic Movie Review 3966
Check out more reviews on http://derekwinnert.com