Gentleman's Agreement **** (1947, Gregory Peck, Dorothy McGuire, John Garfield, Celeste Holm, Anne Revere, Dean Stockwell, Jane Wyatt, June Havoc, Albert Dekker) – Classic Movie Review 4472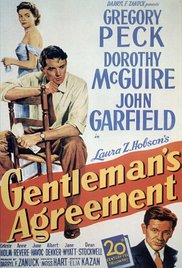 Director Elia Kazan's first film concerned with personal and social issues was his 1947 triple Oscar-winning film dealing with anti-Semitism in America. It won the Best Picture and Best Director awards and was as successful as it was controversial in its day. 'I don't move unless I have some empathy with the basic theme,' he said. Of course controversial sells movie tickets.
An under-estimated Gregory Peck gives one of his best, most stalwart, rock solid performances as Philip Green, a respected journalist who is recruited by a national magazine to write a series of exposé magazine articles about anti-Semitism in America.
Reluctant and unsure how to proceed, he decides to go ahead by pretending to be Jewish for six weeks, and soon enough discovers bigotry and hatred. His anger over how he is treated affects his relationship with his publisher's niece Kathy Lacy (Dorothy McGuire), who proposed the articles.
With the screenplay by Moss Hart based on the novel by Laura Z Hobson, the film may seem a bit creaky and dated now. But it is still fascinating for the historically important material, passionate dramatic writing, some fine acting (especially by Best Supporting Actress Celeste Holm as a fashion editor Anne Dettrey, Dorothy McGuire as Peck's girlfriend, Anne Revere as Mrs Green, and John Garfield as Jewish man Dave Goldman) and the still fresh-seeming shooting by cinematographer Arthur C Miller in black and white realist style on New York locations.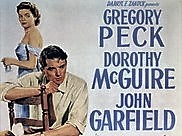 And it is important never to forget that while a liberal movie like this did enormous good in challenging prejudice and changing traditional American attitudes, it also managed to stir up the enraged response of the witch-hunting House Committee on Un-American Activities, crushing a whole generation of liberals, left-wingers and actual communists, and staining Hollywood for ever.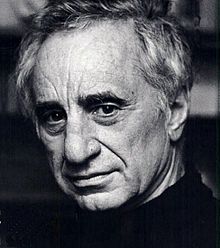 Kazan himself testified before the HCUAA in 1952 at the time of the Hollywood blacklist, which helped end the careers of various colleagues. Many liberal friends and co-workers attacked him for this, and continued to do so even five decades later when he was awarded an honorary Oscar in 1999. He justified it by saying it was the lesser of two evils, taking 'only the more tolerable of two alternatives that were either way painful and wrong'.
It received eight Oscar nominations (including for Peck, McGuire, Revere and writer Hart) and three wins, including Kazan's first for Best Director, for Best Picture, and Best Supporting Actress (Holm). It won three Golden Globes in  the same categories, and Dean Stockwell (playing Tommy Green) won a Special Award for the best juvenile actor.
Also in the cast are Jane Wyatt, June Havoc, Albert Dekker, Nicholas Joy, Sam Jaffe, Harold Vermilyea, Ransom M Sherman, Roy Roberts, Kathleen Lockhart, Curt Conway and John Newland.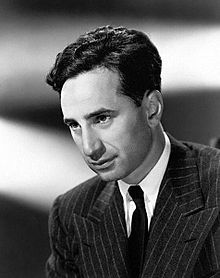 Kazan told journalists he was very disappointed with Peck's performance and they fell out and never again worked together.
Kazan is the director of A Streetcar Named Desire (1951), On the Waterfront (1954) and East of Eden (1955).
© Derek Winnert 2016 Classic Movie Review 4472
Check out more reviews on http://derekwinnert.com