Days of Glory *** (1944, Gregory Peck, Tamara Toumanova, Alan Reed) – Classic Movie Review 6126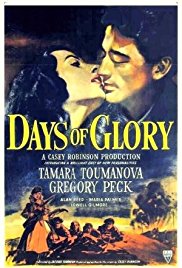 Director Jacques Tourneur's 1944 movie is memorable mostly for one thing, as Gregory Peck and Tamara Toumanova both make their first screen appearances in this heartfelt, convincingly handled wartime story about plucky Russian guerrillas plotting to beat back the advance of the mighty Germans in World War Two.
Tourneur encourages good work from Peck as Vladimir, leader of the guerrilla group of Soviet patriots, and from famed ballerina Tamara Toumanova as the dancer Nina, who is stranded behind Nazi lines in 1941. She is rescued by Peck's freedom fighters and then he falls for her.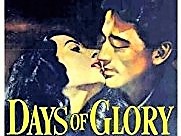 The fresh film star names and performances helped it to success as a movie but unfortunately led it to a box-office collapse, and it was fairly costly at $958,000, though it was filmed at Cedar City, Utah, a long way from the war zone.
Based on an original story by Melchior Lengyel, it is given plenty of realism and edge by director Tourneur.
Also in the cast are Alan Reed, Maria Palmer, Lowell Gilmore, Hugo Hass, Dena Penn, Glenn Vernon, Lou Crosby, William Challee, Joseph Vitale and Ivan Triesault.
An RKO film, it is shot in black and white by Tony Gaudio and scored by Constantin Bakaleinikoff and Daniele Amfitheatrof. The Special Effects by Vernon L Walker (photographic) and James G. Stewart and Roy Granville (sound) were Oscar nominated.
Legendary Russian ballerina Toumanova, 'The Black Pearl of the Russian Ballet', then went on to marry the film's writer-producer Casey Robinson in 1944 (but they divorced in 1954). Toumanova never really became a movie star, though she appeared in Tonight We Sing and Deep in My Heart, and later Torn Curtain and The Private Life of Sherlock Holmes.
Toumanova may never really have become a movie star, though Peck did of course. Peck went on to have an Oscar nominated success in The Keys of the Kingdom (1944).
© Derek Winnert 2017 Classic Movie Review 6126
Check out more reviews on http://derekwinnert.com