Marnie ***** (1964, Sean Connery, Tippi Hedren) – Classic Film Review 154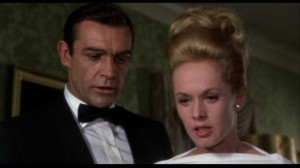 Alfred Hitchcock's dark romantic thriller got some poor reviews in 1964 and wasn't a big hit. But it did have its admirers and was a moderate box office success, grossing $7million in cinemas. Now it's easy to admire and enjoy the truly weird story, the beautifully-crafted scenes of suspense, the mounting atmosphere of tension and all the director's flashy tricks. Perhaps best of all, it's especially easy to relish the unusual, charismatic characters, brilliantly played by the stylish star duo of Sean Connery and Tippi Hedren.

Connery plays Mark Rutland, an American company boss who hires an icy blonde secretary Marnie Edgar (Hedren), a cool customer indeed. Marnie turns out to be a compulsive liar and thief when Mark catches her red-handed and traps and blackmails her into a loveless marriage, which even ends up with him raping her on their honeymoon. He traps her like a frightened animal.

But his Freudian mission is now to save her, by hiring a detective to find out all about her troubled past and childhood. And once again in Hitchcock,  it all comes back to the mother! Mark is at least as obsessive and compulsive as Marnie is – they're made for each other, the perfect couple! Question is, they're both sick but can they save each other and fall in love?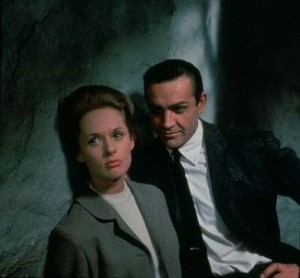 Connery, miles from James Bond and his usual macho persona, gives a devastating performance as a rich American urban male whose outward smoothness and confidence slowly erode to show the scared child inside. And the magnetic Hedren is astonishing in finding the soul beneath the sizzlingly beautiful outward shell.

Remotely based on a novel by Winston Graham, this disturbing study in obsession is a key Hitchcock work that reflects Hitch's own obsessive feelings towards Hedren. It is a powerful, gripping, subversive personal project with links to Rebecca, Spellbound, Vertigo and Rear Window. All these years after it was made, it still seems modern and dangerous.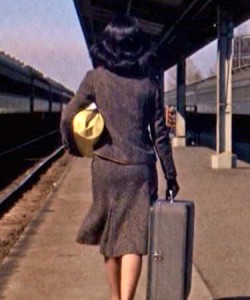 Bruce Dern (aged 28) makes his official film debut as a sailor at the end of the movie, after several years in TV and an uncredited bit part in Wild River (1960). He was rewarded with two different roles in TV's The Alfred Hitchcock Hour, also in 1964.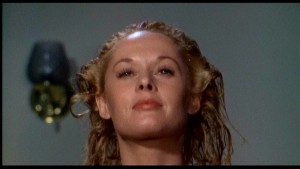 The ever-resourceful Hitchcock made his money back after it was a success when it was re-released in a double bill with The Birds. Once again disloyally blaming his movie's initial relative box-office failure on the actors, Hitchcock said: 'I wasn't convinced that Sean Connery was a Philadelphia gentleman. In a story of this kind you need a real gentleman, a more elegant man than we had.' No complaints about his protégé Hedren, though.
Unusually looking to camera, Hitch makes his customary cameo early in the film as a hotel guest walking nearby Marnie in a corridor.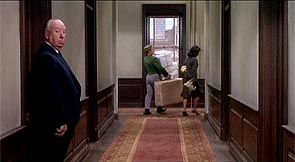 The director's first choice to play the title role was Grace Kelly, by then Princess Consort of Monaco. But she withdrew from the project when the citizens of Monaco objected to her appearing in a film, especially as a sexually disturbed thief. This story is told in 2014's Grace of Monaco with Nicole Kidman. High Society was Kelly's last film.
http://derekwinnert.com/north-by-northwest-classic-film-review-4/
http://derekwinnert.com/high-society-1956-bing-crosby-grace-kelly-frank-sinatra-classic-film-review-1229/
(C) Derek Winnert 2013 Classic Film Review 154
Link to Derek Winnert's home page for more film reviews: http://derekwinnert.com/