Vertigo ***** (1958, James Stewart, Kim Novak, Barbara Bel Geddes) – Classic Movie Review 48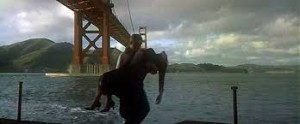 Alfred Hitchcock's dizzying, dazzling, brilliant 1958 study in romantic obsession focuses on James Stewart as John 'Scottie' Ferguson, a troubled police detective who has to resign the force because of his crippling vertigo (acrophobia, fear of heights).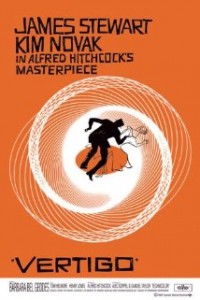 Then he's hired by his old friend Gavin Elster (Tom Helmore) to follow his 'suicidal neurotic' wife Madeleine Elster (Kim Novak), and falls for her but can't save her life when she jumps to her death from a church tower. Later he thinks he's got another chance with love when he sees another young woman, Judy Barton (also Novak), who looks uncannily similar to her, except that, admittedly, she's a brunette.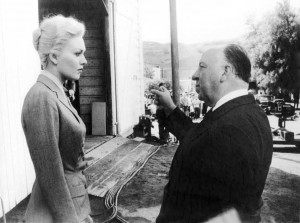 Hitchcock elevates a compelling mystery novel by Pierre Boileau and Thomas Narcéjac (also the authors of Les Diaboliques) into an all-time-great movie, turning a powerful microscope its nightmarish themes, while seeing the background of San Francisco through a glass darkly in startlingly non-naturalistic colour and sets, creating a dreamlike fantasy landscape, helped by Robert Burks's cinematography and another vintage score from Hitch favourite Bernard Herrmann.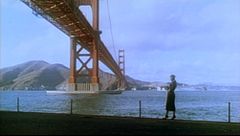 Cannily cast, Stewart and Novak are perfect, giving the kind of performances actors dream of. And so is Barbara Bel Geddes (from TV's Dallas) as Midge, the sensible and straightforward young woman who adores and helps Stewart (though of course this counts as another of the film's obsessions).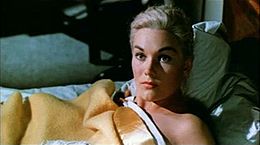 The film was beautifully restored to its original visual glory in 1996, so we can see it as it was back in 1958. The painstaking restoration by Robert A. Harris and James C. Katz features restored colour and newly created audio, using modern sound effects mixed in DTS digital surround sound. In October 1996, the restored Vertigo premiered at the Castro Theatre in San Francisco, with Kim Novak and Patricia Hitchcock in person. It was screened for the first time in DTS and 70mm, a format with a similar frame size to its original VistaVision system.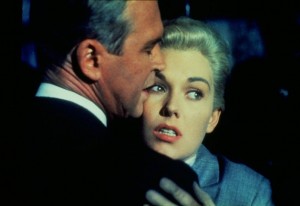 Hitchcock said: ' I was intrigued by the hero's attempts to re-create the image of a dead woman through another one who's alive. The man wants to go to bed with a woman who's dead. He's indulging in a form of necrophilia.'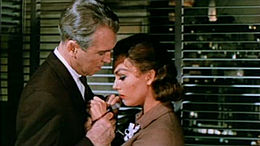 The Novak role was intended for Hitch's protégé Vera Miles, who unluckily had to drop out when she became pregnant, missing the role of a lifetime.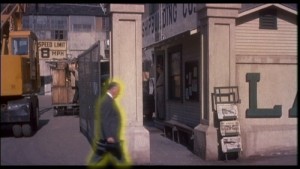 As usual Hitchcock appears in a walk-on, this time as the 'man walking past the boat yard' about 10 minutes into the film. With Scottie about to arrive at Elster's shipyard, Hitchcock walks across from left to right carrying what appears to be a bugle case. The scene was shot on the Paramount lot on 19 December 1957, close to the studio's prop department.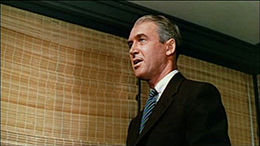 While Vertigo broke even upon its original release, taking $2.8million in gross rental in the United States alone against its $2,479,000 cost, it earned significantly less than other Hitchcock productions. Hitchcock stated that it was one of his favourite films, blaming the its weak box office on Stewart looking too old at 50 to play a convincing love interest for Kim Novak, who at 25 was half his age. Reviews were mixed.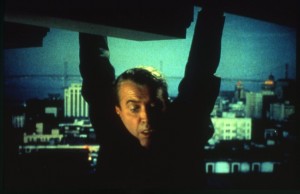 Hitchcock removed the film from circulation in 1973 and bequeathed it and four of his other films to his daughter Patricia. When Vertigo was re-released in cinemas in October 1983 and on video in October 1984, it achieved an impressive commercial success and very positive reviews. It was voted best film of all time by British critics in 2012 in a BFI poll, toppling Citizen Kane.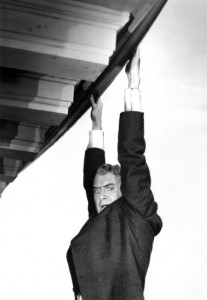 Mel Brooks's 1977 High Anxiety parodies Hitchcock's suspense films and Vertigo in particular. Brian De Palma's 1976 Obsession is heavily influenced by Vertigo.
© Derek Winnert 2013 Classic Movie Review 48
Check out more reviews on http://derekwinnert.com/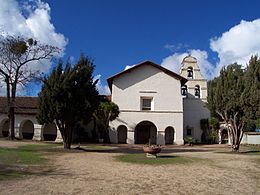 The scenes with Madeleine and subsequently Judy at Mission San Juan Bautista used the real mission location, but with a much higher bell tower as a special effect.