The Birds ***** (1963, Tippi Hedren, Rod Taylor, Suzanne Pleshette, Jessica Tandy, Veronica Cartwright) – Classic Movie Review 18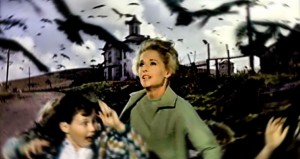 Based on a tale by Daphne du Maurier, author of two other of his film adaptations, Rebecca and Jamaica Inn, this 1963 movie is one of Alfred Hitchcock's most distinguished, unnerving and influential thrillers.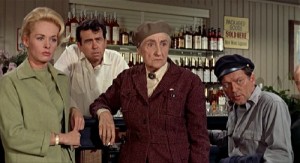 In her finest hour in the cinema, the highly estimable but shamefully undervalued Tippi Hedren stars as sleek and sophisticated San Francisco woman Melanie Daniels, a cool blonde loner who meets by chance a stranger, lawyer Mitch Brenner (Rod Taylor), in an exotic bird shop. Somehow he gets under her skin with his impudent charm, and she impulsively follows him with a gift of a pair of lovebirds to his Californian coastal home in Bodega Bay, where there's a sudden, inexplicable attack by vicious birds.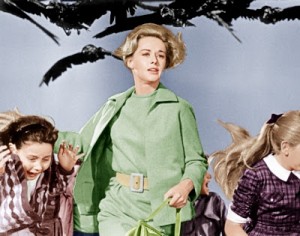 Melanie meets Mitch's neurotic widowed mom (Jessica Tandy), young sister (Veronica Cartwright) and his equally lonely ex-girlfriend Annie Hayworth (Suzanne Pleshette), the local schoolmarm. They are an odd little crew, indeed.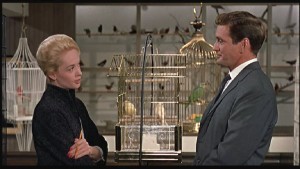 A commanding Hitchcock moves relentlessly on, from witty banter to easy-going romance to a creepy mood of foreboding to stark, outright horror as the bird attacks become ever nastier, then lethal. Wisely, he makes no comment on the nature of the attacks, offering no explanation, leaving up to the viewer to puzzle out the meaning of the birds.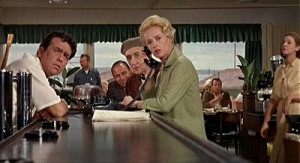 Hedren is the perfect fit for her part, suggesting a world of hurt and fear concealed under the perfect shell of her chilly personality and perfect, international glamour-model beauty. Making the movie, Hedren went through hell to please an apparently sadistically inclined Hitchcock. We'll never quite know what went on – no movie's worth risk of serious injury or death – but Hedren didn't suffer in vain. The movie is a cinema masterwork.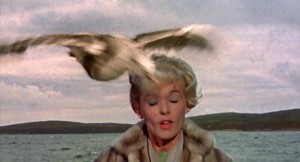 Even with its serious undertow, it's continually gripping and entertaining, and, though you can see the flaws in the valiant old-style process work (how easy it would all be to do this on computers!), it's still heart-poundingly scary and uniquely disturbing.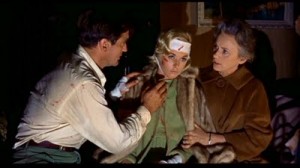 And influential? It started the whole fashion for disaster movies and horror thrillers that's still in vogue today. That's probably what keeps The Birds still fresh, effective and relevant.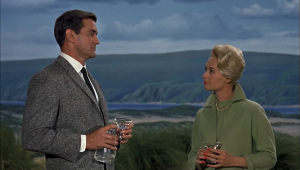 In a clever move that helps the eerie atmosphere, there's no actual music, just electronic bird effects arranged by composer Bernard Herrmann.
Hedren's film-star daughter Melanie Griffith shares her character's forename. Morgan Brittany is billed as Suzanne Cupito.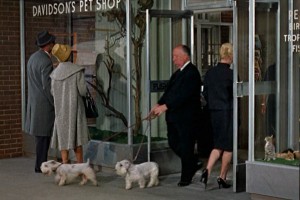 Hitch appears in his customary cameo as the man with white dogs in front of the pet shop. Here he is leaving the shop with two of his own Sealyham terriers, Geoffrey and Stanley, as star Tippi Hedren enters.
Also in the cast are Ethel Griffies, Charles McGraw (as Sebastian Sholes, the fisherman in the diner), Joe Mantell, Elizabeth Wilson, Doodles Weaver, Richard Deacon, Ruth McDevitt, Malcolm Atterbury, Karl Swenson, Lonny Chapman, John McGovern, Doreen Lang and Bill Quinn.
The making of the movie is examined in the TV film The Girl (2012).
The schoolhouse where they filmed in Bodega, California, is supposedly haunted.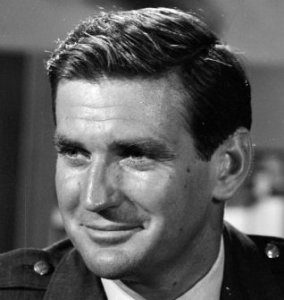 Rod Taylor, also star of the 1960 The Time Machine, died on January 7 2015, aged 84.
http://derekwinnert.com/the-time-machine-1960-classic-film-review-661/
http://derekwinnert.com/jamaica-inn-classic-film-review-390/
http://derekwinnert.com/rebecca-classic-film-review-72/
© Derek Winnert 2013 Classic Movie Review 18
Check out more reviews on http://derekwinnert.com/