Rear Window ***** (1954, James Stewart, Grace Kelly, Thelma Ritter, Wendell Corey, Raymond Burr) – Classic Movie Review 49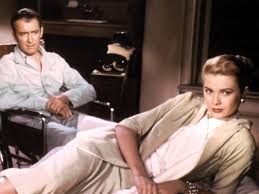 This incredibly engrossing and enjoyable 1954 thriller is an absolutely top-notch suspense masterwork from Alfred Hitchcock. Based on Cornell Woolrich's novel, and adding a love story for the hero and a wealth of neighbours to spy on, John Michael Hayes's screenplay focuses on its theme of voyeurism through the eyes of its main character – photojournalist L B 'Jeff' Jeffries, who has been injured at a car race. He is memorably played by James Stewart in one of his iconic roles.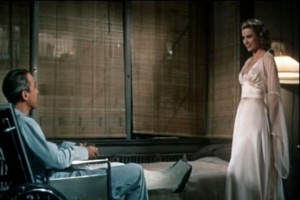 Jeff is stuck in a wheelchair passing the time till his leg plaster-cast can come off by spying on his Greenwich Village neighbours, all of whom are having emotional problems that reflect his own troubles with upper-class gal Lisa Carol Freemont (Grace Kelly), a society fashion consultant. He witnesses something that leads him to suspect a man he sees in the rear window across the courtyard has murdered his wife, and is willing first to risk Kelly's life, then his own, to try to trap the suspected killer.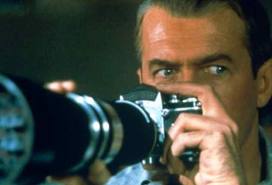 It is one of those rarest of films where the screenplay, performances, production, cinematography (Robert Burks), score (Franz Waxman) and direction are just perfect, and, thanks to its classic story, themes and its Technicolor photography, it still comes up fresh and undated.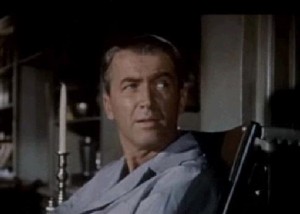 There is stirring acting from the superb stars at their peak and from Thelma Ritter as their nifty visiting nurse/home-help Stella, Wendell Corey as Doyle, a kindly police detective lieutenant who fancies Kelly, and Raymond Burr as Lars Thorwald, a nasty, sinister blonde neighbour whom they spy on but, in one of the film's best and tensest sequences, retaliates by breaking into the incapacitated Stewart's apartment. (Hitch made Burr resemble his one-time producer David O Selznick with whom he had quarrelled).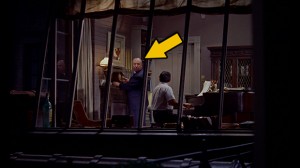 Hitchcock, who appears in the window of the song-writer's apartment as a butler winding a clock, directs like a man obsessed – with his story, characters and actors. That song-writer is played by real song-writer Ross Bagdasarian, famous for dreaming up Alvin and the Chipmunks. Hitchcock appears in 39 of his 52 surviving major films.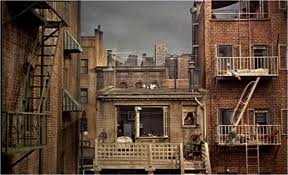 The film is shot entirely at Paramount studios, with just the one enormous set on one of the sound stages, the largest created at the time.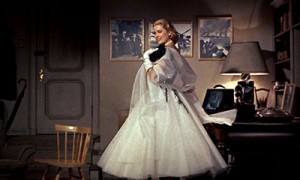 Hitchcock says: 'I was feeling very creative at the time, the batteries were well charged.' In response, director François Truffaut authoritatively tells the great man: 'Probably your best screenplay in all respects: the construction, the unity of inspiration, the wealth of details.' So there.
It was finally re-released in cinemas in 1984 after being out of circulation for 30 years. Hitch kept it out of sight as a bequest to his daughter Patricia, along with the rights to five others of his movies. And it was lovingly restored in 2000, winning supervising producer James C Katz, the Las Vegas Film Critics award for Special Achievement in Film Preservation.
It was remade for TV in 1998 with Christopher Reeve and Daryl Hannah. Disturbia (2007)  has a very similar idea.
© Derek Winnert 2013 Classic Movie Review 49
Link to Derek Winnert's home page for more film reviews: http://derekwinnert.com/