Willy Wonka and the Chocolate Factory ***** (1971, Gene Wilder, Peter Ostrum, Jack Albertson, Roy Kinnear, Aubrey Woods) – Classic Movie Review 1612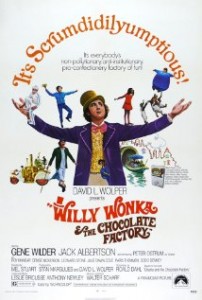 Director Mel Stuart's 1971 family classic is a beloved movie treasure, packed full to overflowing with the zaniest joie de vivre, and driven along at musical comedy full throttle.
In his one shot at movie fame, Peter Ostrum (aged 13) plays Charlie Bucket, a chocaholic youngster among five kids who win a lifetime's supply of chocolate and a visit to a fantastical sweet (candy) factory. Gene Wilder stars as the madcap, eccentric, unpredictable sweet tycoon Willy Wonka, who presides over the Chocolate Factory and sets about to test the children's honesty.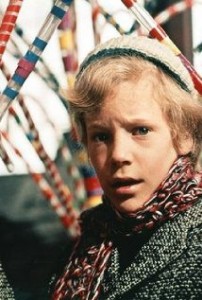 Wilder's vivacious, engagingly nutty performance is a gem, leading a clutch of lovely performances. Those, combined with Roald Dahl's superlative story, Harper Goff's imaginative production designs and catchy Anthony Newley-Leslie Bricusse songs make this all-time great children's – and adults' – favourite an extremely tasty concoction.
Jack Albertson as Grandpa Joe, Roy Kinnear as Henry Salt and Aubrey Woods as candy store-owner Bill are all huge performing assets. Peter Ostrum, Michael Bollner (Augustus), Julie Dawn Cole (Veruca Salt), Denise Nickerson (Violet Beauregard) and Paris Themmen (Mike Teevee) are all perfect as the children. All five gathered for the commentary on the 30th anniversary DVD release in 2001. Albert Wilkinson is one of the ten actors played the Oompa Loompas, one of them a woman.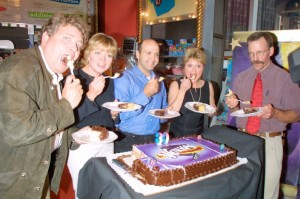 In his only screenplay from one of his own stories, Dahl makes a highly effective job of adapting the script from his own bestselling children's book Charlie and the Chocolate Factory, keeping his familiar trademark dark tone. However, rewrites by an uncredited David Seltzer infuriated Dahl and he refused to sell the film rights for his book sequel Charlie and the Glass Elevator.
Ostrum made no other films and became a vet to cows and horses in rural New York state. He has two children, Helenka and Leif. Chocolate-hater Julie Dawn Cole (who handed a bouquet to Princess Margaret at the London premiere) is the only one of the five Wonka children still acting. She is a veteran of Emmerdale, Holby City and Casualty. Faces to recognise include Tim Brook-Taylor (from The Goodies), Pat Coombs and Ed Peck.
Songs by Anthony Newley (music) and Leslie Bricusse (lyrics): 'The Candy Man', 'Cheer Up Charlie', 'Golden Ticket', 'Pure Imagination', ' Oompa Loopa', 'I Want It Now'.
Filmed in Munich but they cast outside Germany to recruit enough little people to play the Oompa Loompas. Most of them didn't speak English so many of them obviously don't know the words to songs. Bollner (Augustus) also didn't speak English. The opening credits sequence was filmed at the real Tobler chocolate factory in Switzerland. Ernst Ziegler (Grandpa George) was nearly blinded by poison gas in the First World War and had to look for a red light to guide him on set.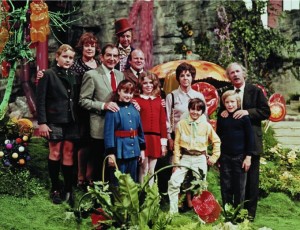 Though the film didn't do very well at the cinema box office, it was a hit in the video craze of the early Eighties, establishing its reputation. It was remade under its original title of Charlie and the Chocolate Factory in 2005, starring Johnny Depp.
Peter Ostrum says: 'The entire experience was better than enjoyable. But I had a chance to see what everyone's job entailed and I knew I didn't want to do any of those things for a living, including being stars like Gene Wilder and Jack Albertson. When it was over I was anxious to become just another kid again.'
On 17 December 2014, the National Film Registry of the Library of Congress included The Big Lebowski, Ferris Bueller's Day Off, Rosemary's Baby, Saving Private Ryan and Willy Wonka and the Chocolate Factory among the 25 films in its annual selection of notable works.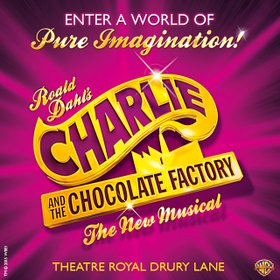 On 25 June 2013, the West End musical stage show version of Charlie and the Chocolate Factory opened at London's Theatre Royal, Drury Lane, with Douglas Hodge as Willy Wonka. Directed by Sam Mendes, it is written by David Greig, with music by Marc Shaiman and lyrics by Marc Shaiman and Scott Wittman.
http://derekwinnert.com/charlie-and-the-chocolate-factory-2005-johnny-depp-freddie-highmore-classic-movie-review-1613/
© Derek Winnert 2014 Classic Movie Review 1612
Check out more reviews on http://derekwinnert.com/