The Producers ***** (1968, Zero Mostel, Gene Wilder, Dick Shawn, Kenneth Mars) – Classic Movie Review 1942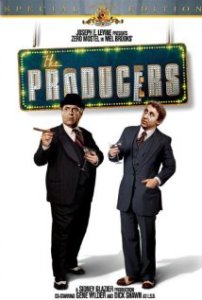 Writer-director Mel Brooks's inspired 1968 first film is a wonderfully tasteless look at the devilish machinations behind the staging of a Broadway flop. It's still guaranteed to delight and offend in equal quantities. The Zero Mostel – Gene Wilder odd couple comedy double act is just genius.
In an attempt by gleefully grasping but down-on-his-luck theatrical producer Max Bialystock (Zero Mostel) and his sneaky, nerdy accountant Leo Bloom (Gene Wilder) to get money by scamming all the rich widow backers in New York, the ghastly duo find the world's worst musical – a tuneless look at the rise of Hitler and Nazism. It is ex-Nazi Franz Liebkind (Kenneth Mars)'s pro-Nazi play, Springtime for Hitler.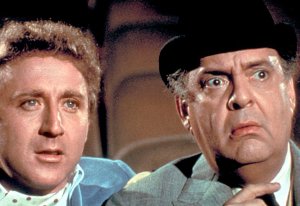 It would be a sure-fire flop and by staging just the way it's written they can make a fortune and Max can stop romancing rich old ladies for their money. So then they produce and put on a big-budget Broadway extravaganza version of the show that, just as they wait at the theatre on its opening night for it to fail, of course, unbelievably, though inevitably, becomes a huge hit.
Also inspired, Mostel and Wilder play it wildly over-the-top, flinging gags off left, right and centre. If, inevitably, some miss the mark, so many of them hit home and the playing is so appealing that this is truly sparkling, vivacious comedy that won Brooks an Oscar for his best original story and screenplay. Alas, he doesn't appear, but he does also sing (dubbed) the hilarious 'Springtime for Hitler' number.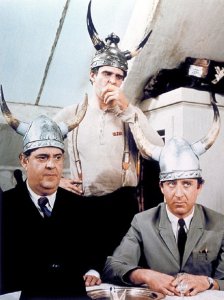 Estelle Winwood, Renée Taylor (Eva Braun), Lee Meredith, Christopher Hewett, William Hickey, Barney Martin (Göring), David Patch (Goebbels) and Frank Campanella also appear.
Executive producer Joseph Levine was dubious about releasing it, until Peter Sellers saw it privately when it was still called Springtime for Hitler and talked him into it. The title had to be changed because cinemas and papers wouldn't advertise a film of that name.
A hit Broadway stage show version followed in 2003 with Nathan Lane and Matthew Broderick, which opened in London's West End in 2004 with Nathan Lane and Lee Evans. Lane returned to the show to replace an ailing, unhappy Richard Dreyfuss before opening night. There's a 2005 film with Lane and Broderick re-creating their Broadway stage roles.
© Derek Winnert 2014 Classic Movie Review 1942
Check out more reviews on http://derekwinnert.com/