Saving Private Ryan ***** (1998, Tom Hanks, Matt Damon, Tom Sizemore) – Classic Movie Review 158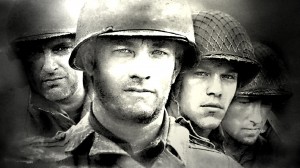 Director Steven Spielberg's devastating 1998 Second World War epic war film scooped five Oscars (including best director for him) and 11 nominations and was the number one hit at the US box office in 1998, taking $205 million.
The first 35 minutes of the Allied attack landing on the beaches at Normandy on June 6 1944 are a gut-wrenching masterpiece. This Omaha Beach scene cost $11million to film and involved 40 barrels of fake blood, subtle Industrial light & Magic visual effects and 1,000 extras, many from the Irish Army Reserve, some of them amputees.
This sequence is, in many ways, the making of the movie. But, even if the rest of film isn't quite as brilliant, it still keeps its vice-like hold on the brain and emotions.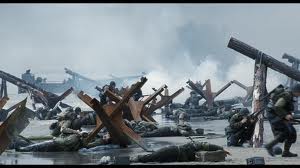 In the now famous story, a group of eight American soldiers have to risk their lives to go behind German enemy lines to bring back US paratrooper Private James Francis Ryan, whose three brothers have all been tragically killed in action. In a cruellest trick of fate, their mother has received three separate telegrams informing her of her sons' deaths on the same day. The US Chief of Staff, General George Marshall (Harve Presnell) decides enough sacrifice is enough and to intervene to try to alleviate the mother's grief by reuniting her with her one remaining boy.
The performances often startle: Oscar-nominated Tom Hanks is outstanding in a rock-solid turn as the 2nd Rangers platoon captain John Miller, while a pre-stardom Matt Damon is very good indeed as Private Ryan. Tom Sizemore does the shouting soldier routine to a T as Technical Sergeant Michael Horvath and Jeremy Davies sticks in the mind as the bookish, cowardly Corporal Timothy Upham.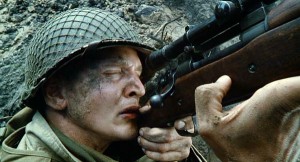 There's a first-class screenplay from Robert Rodat, making sense out of all the wartime chaos and a complicated narrative with many characters, and bringing out all the poignancy of the story and its anti-war message. He had to write 11 drafts of the script before it was accepted by producer Mark Gordon.
Rodat was inspired to write this fictional story when he saw the Pennsylvania monument to the four sons of Agnes Allison, killed in the American Civil War. The Private Ryan story is based very loosely on the real one of the four Niland brothers, from Tonawanda, New York, three of whom were reported killed in WW2, though one turned up alive in a Japanese PoW camp in Burma.
Rodat went on to write The Patriot (2000) and create the Falling Skies TV show in 2011.
Spielberg's direction is some of his best work. It particularly clear and dynamic, and he's great with both the action and the actors, so that the smaller, more intimate moments are successfully taken care of along with the big ones.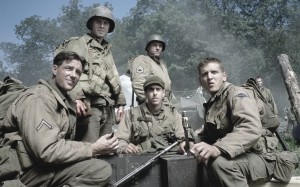 Just judged technically, it's an absolutely brilliant movie – with marvellous cinematography from Oscar-winner Janusz Kaminski – as reflected as the Academy Awards when all the wins went to people behind the camera (best director, cinematography, sound, sound effects editing, film editing).
With Edward Burns, Barry Pepper, Adam Goldberg, Vin Diesel, Giovanni Ribisi, Ted Danson, Paul Giamatti and Dennis Farina, Spielberg has assembled the perfect dream cast for the job. It's a shame none of the actors was rewarded when they had to go through so much to make it.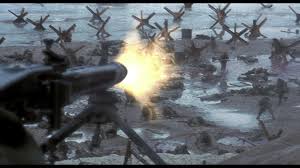 Spielberg sent his cast to boot camp for a gruelling week-long taste of army life. Days into the no-comfort torture, during a six-mile run, the actors rebelled and voted to go home. All except Tom Hanks. 'I loved it,' he said. 'They all wanted to quit and I said "no". It was our rehearsal, our preparation.' Hanks had an advantage; he'd previously been instructed by technical advisor Captain Dale Dye (USMC retired) for the Vietnam War scenes of Forrest Gump. Dye has a cameo as a War Department colonel.
On 17 December 2014, the National Film Registry of the Library of Congress included The Big Lebowski, Ferris Bueller's Day Off, Rosemary's Baby, Saving Private Ryan and Willy Wonka and the Chocolate Factory among the 25 films in its annual selection of notable works.
http://derekwinnert.com/schindlers-list-classic-film-review-80/
(C) Derek Winnert 2013 Classic Movie Review 158 derekwinnert.com
Link to Derek Winnert's home page for more film reviews: http://derekwinnert.com/