The Big Lebowski ***** (1998, Jeff Bridges, John Goodman, Julianne Moore, Steve Buscemi, David Huddleston, John Turturro, David Thewlis, Philip Seymour Hoffman, Sam Elliott, Ben Gazzara, Peter Stormare, Jon Polito) – Classic Movie Review 288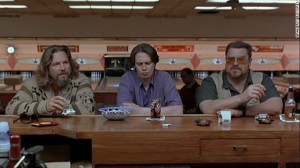 'This is not Nam. This is bowling. There are rules.'
Super-charged with confidence in 1998 after the success of Fargo, the Coen Brothers score again and come up with another beloved cult classic crime comedy. Their dark-toned charm and jet-black humour curl the lips upwards into the smiley face position. This time it's up to the amiable Jeff Bridges to provide the warmth and charm in an otherwise heartless movie, just like Frances McDormand did in Fargo.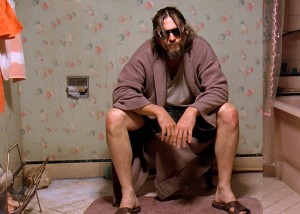 Bridges gets by very nicely on his crumpled charisma as a bowling-alley dropout called 'The Dude' Lebowski, whose apartment is attacked by two thugs in mistake for that of an elderly millionaire philanthropist called The Big Lebowski (David Huddleston). The thugs urinate on his rug to coerce The Dude into paying a debt he knows nothing about. This sets off a freewheeling, wacky plot parodying the film noir genre, in which the philanthropist's young wife is apparently kidnapped and The Dude is persuaded by The Big Lebowski into accepting a one-time job with high pay-off to deliver $1million in ransom money to the goons.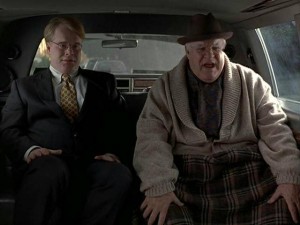 The Dude seeks restitution for his ruined rug and enlists the help of his bowling-alley buddies Walter Sobchak (John Goodman), a gun-toting Jewish-convert with anger issues, and weasely Donny Kerabatsos (Steve Buscemi). And of course the ransom drop all goes wrong, leading to more trouble.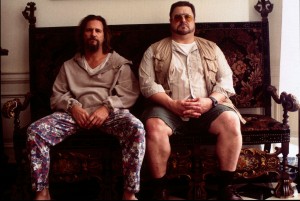 The Coen Brothers script, peppered and salted with four-letter words, is relentlessly  and endlessly quirky. It is always meaningless in its absurdist plot that is deliberately pointless and nihilist. Joel and Ethan's motto seems to be 'anything for a laugh', which, come to think of it, isn't a bad one for a comedy.
Goodman relishes the extreme character he's playing, kicking up a storm of rage and anger. And the Kerabatsos role prompts Steve Buscemi into giving a master class in his trademark grimacing.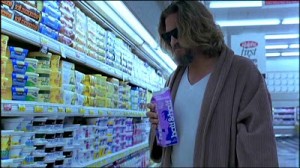 A slew of star cameos get their laughs by being amazingly self-indulgent, especially John Turturro (Jesus Quintana), David Thewlis (Knox Harrington), Philip Seymour Hoffman (as The Big Lebowski's obsequious sycophantic servant Brandt), Sam Elliott (The Stranger), Ben Gazzara (Jackie Treehorn), Peter Stormare (Karl Hungus) and Jon Polito (Da Fino).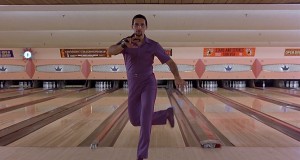 Julianne Moore, playing Huddleston's alienated daughter, who wants back her father's $1million and his rug that Bridges has stolen, gives an off-beat turn that again is very amusing and pleasing.
Yes, it's all very smart-alec, slick, witty, funny and heartless. The Coens have done it again! Yet it wouldn't have worked nearly as well without Bridges. This is one of his coolest performances and best loved roles.
On 17 December 2014, the National Film Registry of the Library of Congress included The Big Lebowski, Ferris Bueller's Day Off, Rosemary's Baby, Saving Private Ryan and Willy Wonka and the Chocolate Factory among the 25 films in its annual selection of notable works.
RIP David Huddleston, the much admired character actor who played The Big Lebowski, died on 2 aged 85. His credits also include 2005's The Producers, Santa Claus: The Movie and Blazing Saddles.
© Derek Winnert 2013 Classic Movie Review 288
Check out more reviews on http://derekwinnert.com/