Hellraiser **** (1987, Andrew Robinson, Clare Higgins, Ashley Laurence, Doug Bradley) – Classic Movie Review 6113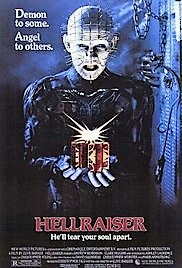 Clive Barker writes and directs this classy, entertaining, graphically gruesome 1987 British horror movie based on the story in his own 1986 novella The Hellbound Heart.
Andrew Robinson and Clare Higgins star as Larry and Julia, a couple who move into a new home where there is a horrible fiend hiding in the attic that needs feeding on men's blood – and it is the unfaithful wife's zombie dead old lover, who is also the husband's half-brother.
Higgins must pick men up and bring them back to give to the thing as human sacrifices to complete his body, and he can thus be snatched back from hell.
It is a highly confident and promising feature directing début by horror writer Barker, with Doug Bradley as Pinhead, the head of a trio of S&M demons, the Cenobites. The name Pinhead was coined by the makeup crew that took six hours to apply the prosthetics on Bradley. He is first credited as Pinhead in Hellbound: Hellraiser II.
The character is an unnamed figure in Barker's novella, appearing only in the story's beginning, as a sexually ambiguous follower of the Engineer. Barker had no say in the name Pinhead and thought it was undignified. The character is only ever called Pinhead in the films by protagonist Joey Summerskill in Hellraiser III: Hell on Earth. 
Barker named the Pinhead character Hell Priest in his novel The Scarlet Gospels, and his original concept art for Pinhead was adapted into a limited quantity officially licensed Hell Priest mask by Composite Effects on 24 March 2017 in celebration of the 30th Anniversary of Hellraiser.
Also in the cast are Ashley Laurence, Sean Chapman, Oliver Smith, Robert Hines, Kenneth Nelson, Gay Baynes, Niall Buggy, Dave Atkins, Oliver Parker, and Grace Kirby.
Costing $1,000,000 and grossing $14,564,000 in the US, it was a hit and spawned a long-running franchise. Hellbound: Hellraiser II followed in 1988, with Hellraiser III: Hell on Earth in 1992, Hellraiser: Bloodline in 1996, Hellraiser: Inferno in 2000, Hellraiser: Hellseeker (2002), Hellraiser: Deader (2005), Hellraiser: Hellworld (2005) – all with Bradley as Pinhead.
Hellraiser: Revelations followed in 2011, with Stephan Smith Collins as Pinhead, and Fred Tatasciore providing the voice. Bradley said: 'Seeing someone else become Pinhead feels like a kick in the teeth.' A reboot of Hellraiser is announced: Hellraiser: Judgment (2018), with Paul T Taylor as Pinhead.
It is shot by Robin Vidgeon, produced by Christopher Webster, Mark Armstrong, David Saunders and Christopher Figg, scored by Christopher Young and designed by Jocelyn James and Michael Buchanan, with special effects by Bob Keen.
Clive Barker was born on 5 October 1952 in Liverpool. Doug Bradley was born on 7 September 1954 in Liverpool. The two are close friends. Bradley portrays Pinhead in all of the first eight Hellraiser movies.
© Derek Winnert 2017 Classic Movie Review 6113
Check out more reviews on http://derekwinnert.com