Hellbound: Hellraiser II **** (1988, Clare Higgins, Ashley Laurence, Kenneth Cranham, Doug Bradley) – Classic Movie Review 6114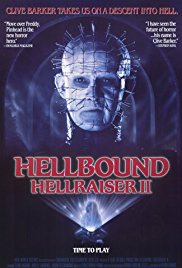 Ashley Laurence, who played the heroine of Clive Barker's Hellraiser (1987) returns as Kristy, who awakes in a psychiatric hospital after the death of her parents for this ingenious, welcome sequel, this time not scripted or directed by the author, just based on his story.
Kenneth Cranham plays her doctor, Dr Channard, who revives her wicked stepmother Julia (Clare Higgins) and she plunges everybody back into the hellish, surreal Cenobites kingdom. Channard is one of the Cenobites and has been searching for many years for the doorway to Hell.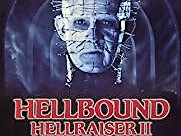 This second journey into Barker's bizarre world is just as brilliant, intelligent and disturbing as the first. Tony Randel directs with great confidence and brio, the special effects and makeup are outstanding, the acting (usually under pounds of gunge) powerful and the roller coaster story makes surprising sense.
It is intelligent horror but graphically gruesome so bring your brain and a strong stomach.
Doug Bradley also returns as Pinhead, the head of the S&M demons, the Cenobites.
Also in the cast are Imogen Boorman, Sean Chapman, William Hope, Barbie Wilde, Simon Bamford, Nicholas Vince, Oliver Smith, Angus MacInnes, Deborah Joel, James Tillitt and Bradley Lavelle.
It is written by Pete Atkins, shot by Robin Vidgeon, produced by Clive Barker, Christopher Webster and Christopher Figg, scored by Christopher Young and designed by Michael Buchanan, with special effects by Bob Keen.
There are various versions – the  uncut version, the heavily cut version for TV and the theatrical version.
Hellraiser III: Hell on Earth followed in 1992.
© Derek Winnert 2017 Classic Movie Review 6114
Check out more reviews on http://derekwinnert.com