Hellraiser: Inferno ** (2001, Craig Sheffer, Nicholas Turturro, James Remar) – Classic Movie Review 6120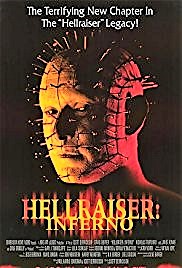 'The Terrifying New Chapter In The Hellraiser Legacy!' Co-writer/ producer/ director Scott Derrickson's promised 2001 fifth episode is another contrived low-budget ($2 million) mess, but with some reasonable performances, okay effects, and enough exciting Hellraiser violence and gore going on. It is a step up from its troubled predecessor, Hellraiser: Bloodline (1996)
All hell lets loose when cop Detective Joseph Thorne (Craig Sheffer) opens the Hellraiser evil puzzle box in this clumsy horror sequel, with far too little of series star Pinhead (Doug Bradley).
The screenplay by Derrickson and Paul Harris Boardman is based on the characters in the novel The Hellbound Heart by Clive Barker. It started with a non-Hellraiser related horror script that was altered to include Pinhead and the Cenobites.
Also in the cast are Nicholas Turturro as Detective Tony Nenonen, James Remar as Dr Paul Gregory, Nicholas Sadler, Noelle Evans, Lindsay Taylor, Matt George, Michael Shamus Wiles, Sasha Barrese, Kathryn Joosten, Jessica Elliott, Carmen Argenziano, Christopher Neiman and Christopher Kriesa.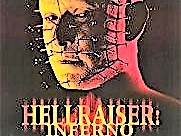 It is shot by Nathan Hope, scored by Walter Werzowa and designed by Deborah Raymond, with special effects by Justin Ditter.
It is followed by Hellraiser: Hellseeker (2002). A reboot of Hellraiser is announced in 2017.
Craig Sheffer is also the star of Nightbreed (1990).
© Derek Winnert 2017 Classic Movie Review 6120
Check out more reviews on http://derekwinnert.com