Hellraiser III: Hell on Earth *** (1992, Terry Farrell, Doug Bradley, Kevin Bernhardt) – Classic Movie Review 6115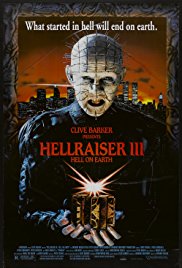 Hellraiser deviser Clive Barker's British college mate Doug Bradley is back as Pinhead, now turned into an all-purpose a Freddy/ Jason-style bogeyman. He is awakened by a greedy New York disco owner and battles with a TV investigative reporter (Terry Farrell), in this tacky but well made third part of the Clive Barker horror saga.
There is a lot of unpleasantness and basic acting, but there is also plenty of pace and raw energy. Encouragingly there are great special effects for an independent film, and there is plenty of nasty stuff for thrill fans.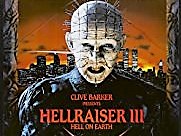 Part III in the long-running franchise follows Hellraiser (1987) and Hellbound: Hellraiser II (1988). This time it has the benefit of a coherent, driving story, though the characterisations and dialogue are disappointingly basic.
It is the first of the series to be wholly made in the US and Barker is masterminding three more sequels. It is comforting to know that after this he wrote a children's novel.
Also in the cast are Paula Marshall, Kevin Bernhardt, Ken Carpenter, Peter Boyton, Aimee Leigh, Ashley Laurence, Lawrence Mortorff, Sharon Hill, Robert C Treveiler, Chris Frederick, Lawrence Kuppin, Sharon Percival, Philip Hyland, David Young, Brent Bolthouse, Peter Atkins, Paul Vincent Coleman, Peter G Boynton, Anthony Hickox, George Lee, Aimée Leigh, Ron Norris, Steve Painter, Shanna Teare, Bob Bragg, Bob Stephens and Clayton Hill.
It is written by Peter Atkins, shot by Gerry Lively, produced by Clive Barker, Christopher Figg and Lawrence Mortorff, scored by Randy Miller and designed by Steve Hardie, with special effects by Steve Rundell.
Hellraiser: Bloodline followed in 1996.
© Derek Winnert 2017 Classic Movie Review 6115
Check out more reviews on http://derekwinnert.com