Hellraiser: Bloodline [Hellraiser IV] * (1996, Bruce Ramsay, Valentina Vargas, Doug Bradley, Christine Harnos) – Classic Movie Review 6119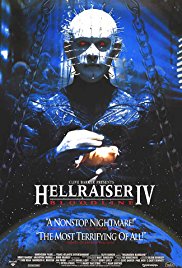 Director Kevin Yeager's 1996 horror movie, the fourth episode in the franchise promised after Hellraiser III: Hell on Earth (1992) is a contrived mess, with dismal performances and a descent into total nastiness.
In the future, Pinhead (Doug Bradley) is called up by Bruce Ramsay, who is arrested by Christine Harnos, who quizzes him about the 18th century French origins of the Hellraiser evil box. Ramsay plays a couple of his own ancestors in flashback stories. Gary J Tunnicliffe's and the director's own special effects are the sole saving grace.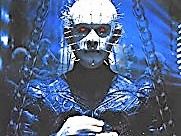 The Hellraiser franchise seems to be self-destructing, and it is the last Hellraiser movie to get a theatrical release, but Hellraiser: Revelations followed in 2011.
Also in the cast are Valentina Vargas, Adam Scott, Kim Myers, Mickey Cottrell as the Duc de L'Isle (modelled on the Marquis de Sade and Gilles de Rais), Louis Turenne, Courtland Mead, Louis Mustillo, Jody St Michael, Paul Perri, Wren T Brown, Tom Dugan, Michael Polish, Mark Polish, Jimmy Schuelke and David Schuelke.
It is written by Peter Atkins, shot by Gary Lively, produced by Clive Barker and Nancy Rae Stone, scored by Daniel Licht and designed by Ivo Cristante, with special effects by Kevin Yeager and Gary J Tunnicliffe of Image Animation.
Director Kevin Yagher had his name removed and is credited with the Directors' Guild of America pseudonym Alan Smithee.
Hellraiser: Inferno (2001) follows. A reboot of the original 1987 Hellraiser is announced in 2017.
© Derek Winnert 2017 Classic Movie Review 6119
Check out more reviews on http://derekwinnert.com