Funny Girl ***** (1968, Barbra Streisand, Omar Sharif, Walter Pidgeon, Kay Medford) – Classic Movie Review 183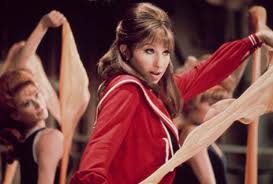 Barbra Streisand dazzles in a firecracker performance, both vocal and acting, in her glorious and auspicious film début in 1968. The 26-year-old star transfers her legendary 1964 hit Broadway and London West End show to the screen in a gift-wrapped, lavish-looking labour of love, realised in the best possible taste.
Rare for a movie version of a stage musical, it is true to the spirit of the show and the original Broadway score, making it filmic but without messing about with it too much and thus losing the original magic.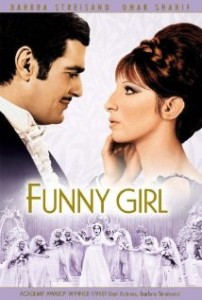 Streisand won a best actress Oscar as Fanny Brice, the determined funny girl from the Jewish slums of New York's Lower East Side, who becomes a big star as the revered comedienne of the Ziegfeld Follies. But, along the way to success, true love eludes her.
She loses her damaged husband Nick Arnstein (Omar Sharif), a sophisticated charmer but a weak man and a compulsive gambler. Playing free and easy with the facts, Funny Girl is peddling an archetypal version of myths of showbiz's swings and roundabouts and doing it brilliantly.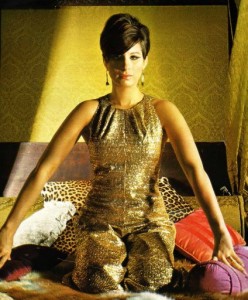 Veteran director William Wyler and choreographer Herbert Ross together handle the material with great flair and style, bringing out the best in their fiery young star. They handle some of the musical sequences (particularly 'Don't Rain on My Parade') with classic style and commanding use of screen techniques.
First and foremost, you've got to say it's a great musical with a great musical star, but they've made it into as great a movie musical as you get when tickets are hard to sell for filmed shows (though the film of Chicago finally managed to hit the jackpot in 2002).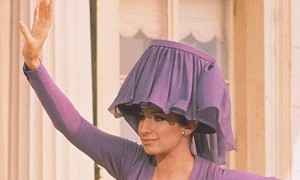 The evergreen Jule Styne show tunes, with lyrics Bob Merrill, come mostly from the original show but there are useful additions in 'Roller Skate Rag' and, especially, the title tune. The film's songs memorably include beautifully sung, poignant versions of 'My Man', 'Second Hand Rose', 'I'd Rather Be Blue', 'People', 'Don't Rain on My Parade', 'The Greatest Star', 'Sadie Sadie', 'His Love Makes Me Beautiful' and 'You Are Woman'.
Barbra shared her Oscar with Katharine Hepburn in A Lion in Winter, the first time the award was split since 1932. The film's seven other nominations, including for Best Picture and the new title song, disappointingly came to nought.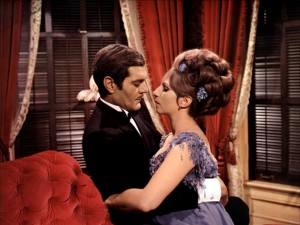 Typically, the Columbia Pictures film studio wanted to dump Streisand is favour of an established star like Shirley MacLaine, but producer Ray Stark held out for Barbra. The studio finally agreed if there was a tight budget of $8,500,000 (compared with her next film Hello Dolly!'s $20million plus). This was mean but turned out to be wise: Columbia made a vast profit and 20th Century-Fox a big loss on Dolly.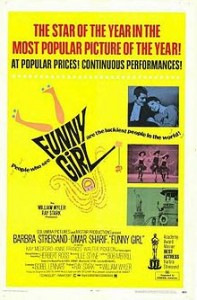 Sidney Lumet was set to direct the film but soon left for 'artistic differences'. So the Columbia studio proposed the 66-year-old Wyler, a three-time Oscar-winner (Mrs Miniver, The Best Years of Our Ives, Ben-Hur) and known as a sympathetic woman's director. He'd just enjoyed a surprise hit for them with The Collector.
But he had never directed a musical before, perhaps because he was deaf in one ear! A hesitant Barbra agreed when she heard that Samantha Eggar was Oscar nominated for The Collector.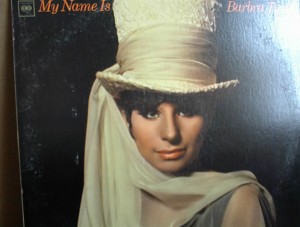 Herbert Ross was signed as director and choreographer of the 16 musical numbers that make up nearly an hour of the film's 155 minutes. He's exactly the right fit for it. Wyler and Ross formed an extremely effective team, both Barbra-friendly. Ross went on to direct two more of her movies, the only person other than herself to direct more than one of her movies.
The team was completed by veteran cinematographer Harry Stradling Sr, who'd shot My Fair Lady, and was known for bringing out the best in a star's looks. This he does big time and he is also brilliant at bringing out the best in the film's good looks too. A great cinematographer then.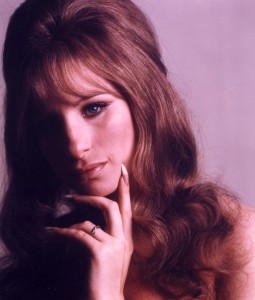 The casting works a treat. Unexpected choice of the Egyptian actor Sharif (picked just before Egypt and Israel start a war) proves ideal as Nick Arnstein, warm and appealing yet suggesting the dark side of his character, veteran MGM star Walter Pidgeon is stalwart as the great old showman Florenz Ziegfeld, while Kay Medford effectively re-creates her stage role as Fanny's mom, Mrs Brice.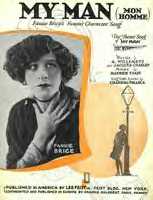 Old-fashioned and out of its time in a youth counter-culture-dominated 1968, and one of the last great products of the old Hollywood studio system, it still caught on big time with the public and took $22million at the US box office. Barbra was paid only $250,000.
Streisand was unafraid to advise Wyler on direction. After the shoot, he jokingly presented her with the gift of a megaphone, saying: 'You should have been a director.' Eventually she took his advice (Yentl, The Prince of Tides, The Mirror Has Two Faces).
Streisand made a sequel, Funny Lady, in 1975, directed by Herbert Ross. Then she filmed A Star Is Born in 1976.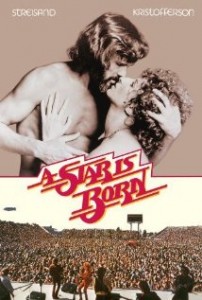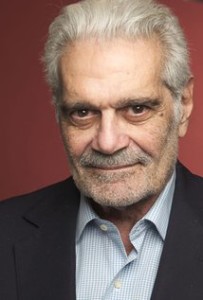 Omar Sharif died of a heart attack on July 10 2015 in Cairo, Egypt, aged 83. He remained best known for playing Sherif Ali in Lawrence of Arabia (1962) and the title role in Doctor Zhivago (1965).
http://derekwinnert.com/funny-lady-barbra-streisand-james-caan-omar-sharif-classic-movie-review-2271/
http://derekwinnert.com/a-star-is-born-1976-barbra-streisand-kris-kristofferson-classic-film-review-1126/
© Derek Winnert 2013 Classic Movie Review 183
Check out more reviews on http://derekwinnert.com/