Chicago ****½ (2002, Renée Zellweger, Catherine Zeta-Jones, Richard Gere, Queen Latifah) – Classic Movie Review 416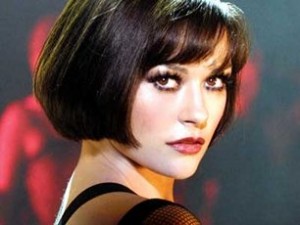 Renée Zellweger (as Roxy Hart) and Catherine Zeta-Jones (as Velma Kelly) are sensational, singing and dancing like grand old troupers, as heartless molls on death row, in director Rob Marshall's red-hot, six Oscar-winning movie of Fred Ebb and John Kander's dazzling jazz-age musical.
Zellweger's Roxy has killed her cheating hubby and Zeta-Jones's Velma has shot dead her faithless rat of a lover (Dominic West), and both need the help of prison guard Mama Morton (Queen Latifah) and cynical smoothie lawyer Billy Flynn (Richard Gere) if they are to survive and prosper in their hunger for fame and fortune.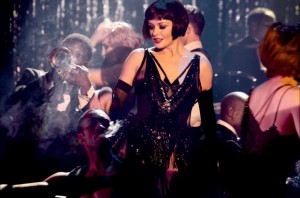 If you like musicals, this is about as good as it gets in 2002, with the numbers staged with enormous, breathless attack that invites instant cheering and applause. Gere seems a little uncomfortable at first, but then warms up into his role and the singing and dancing. Latifah is a sensation, especially singing 'When You're Good to Mama'. And John C Reilly is good as Mr Cellophane.
Christine Baranski, Taye Diggs, Lucy Liu, Deirdre Goodwin, Colm Feore and Chita Rivera are also in the sensational cast. But, there is no doubt about it, it is the two sizzling stars who make the movie.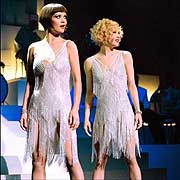 It was nominated for 13 Oscars and was the winner of six awards, including Best Picture (for producer Martin Richards), Best Supporting Actress (Zeta-Jones), Best Art Direction-Set Decoration (John Myhre, Gordon Sim), Best Costume Design (Colleen Atwood) Best Film Editing (Martin Walsh) and Best Sound. Ebb and Kander wrote the original song I Move On for the film, which was nominated.
Zeta-Jones's Velma Kelly isn't really a Supporting Actress role so she should really have been nominated as Best Actress along with Zellweger, then neither of them would have won. As it is, Zellweger failed to become Best Actress, and Latifah and Reilly both failed in the Supporting category. In a fair world Zellweger and Zeta-Jones might have shared the Best Actress Oscar.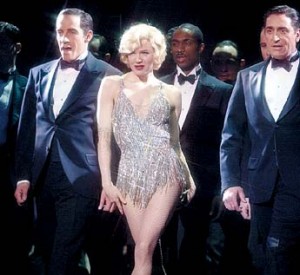 Numerous deleted scenes appear on the DVD, including the infuriatingly deleted number Class, performed by Zeta-Jones and Latifah, which is one of the best songs in the show
A huge box-office smash, taking $170 million in US cinemas alone.
Marshall is the director of Into the Woods (2014).
As of 2017, of the 89 Academy Award winners for Best Picture, 10 are musicals. Other Best Picture Oscar winners include The Sound of Music (1965), West Side Story (1961), My Fair Lady (1964), An American in Paris (1951), The Broadway Melody (1929), The Great Ziegfeld (1936), Gigi (1958), Oliver! (1968) and Going My Way (1944).
http://derekwinnert.com/into-the-woods-2014-anna-kendrick-meryl-streep-chris-pine-emily-blunt-james-corden-movie-review/
© Derek Winnert 2013 Classic Movie Review 416
Check out more reviews on http://derekwinnert.com/