Ben-Hur ***** (1959, Charlton Heston, Jack Hawkins, Stephen Boyd, Haya Harareet, Hugh Griffith) – Classic Movie Review 78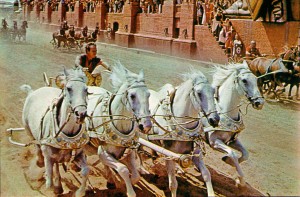 Unfortunately, this incredibly popular and sincere 1959 remake of the 1925 Ramon Novarro silent epic Ben-Hur about the conflict of the Jews and the Romans at the time of Christ just plain hasn't aged too well.
Now it seems arid and stuffy. But it was a sensation in its day, and swept up 11 Oscars (the all-time record holder until equalled in 1998 by Titanic), including best film, director, actor (Charlton Heston), supporting actor (Hugh Griffith), colour cinematography, art direction, sound, scoring, editing, special effects and costumes.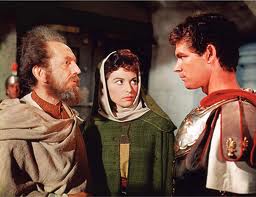 Painstaking director William Wyler's outrageously over-long film (212 or 222 minutes) hasn't worn at all well, and a lot of it is stodgily filmed and boringly written. In a bit of a snub by Academy voters, Karl Tunberg's screenplay, based on the book by Lew Wallace, was its only nomination that didn't turn into an Oscar, but then James Cameron's for Titanic wasn't even nominated. Christopher Fry, Gore Vidal and Maxwell Anderson all worked to improve Tunberg's work, which Wyler had labelled 'awful' and 'horrible'.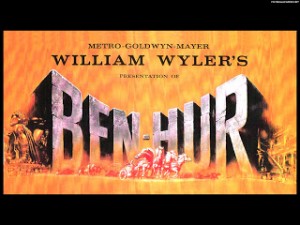 However, the MGM production is the best money (a gob-smacking $15 million of it back in the day) could buy. Charlton Heston is seen at around his best, very noble and heroic as the rich Jewish prince and merchant Judah Ben-Hur, who becomes a converted Christian, is betrayed by his boyhood friend, Roman commander Messala (Stephen Boyd), sold into slavery, is eventually freed and seeks revenge.
And the cast of Boyd, Haya Harareet (Esther), Jack Hawkins (slave owner Quintus Arrius), Hugh Griffith (as a very Welsh Sheikh Ilderim), Martha Scott (Miriam, mother of Hur), Sam Jaffe (Simonides), Finlay Currie (Balthasar / narrator), Frank Thring (Pontius Pilate), Terence Longden (Drusus), George Relph (Tiberius Caesar) and André Morell (Sextus) all turn cartwheels to make it work, even some of them who are desperately miscast and obviously struggling.

On the visceral epic front, it still delivers its magic. The second unit boss Andrew Marton-directed chariot race against Boyd's Messala, now deadly rival of the vengeful Ben-Hur, plus the great sea battle still thrill (though even so aren't as spectacular as in the 1925 Fred Niblo version). Yakima Canutt's stunt work on the race is still incredible. There are 15,000 extras in the chariot race sequence, filmed on an 18-acre site, over five weeks.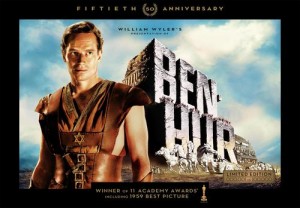 Technically it looks pretty shaky now, even though it won the best special effects Oscar. But there's fine work on the cinematography by Robert Surtees, score by Miklos Rozsa and set designs/art direction by Edward Carfagno, Hugh Hunt and William Horning.
It was a big gamble for MGM – it was the most expensive film then made – that paid off handsomely, earning $75 million. The ultra-widescreen (it was filmed in MGM Camera 65) can be a problem for home viewing, and one version is letter-box for the chariot race only. Like the 1925 version, it was shot in Italy – at Rome's Cinecittá Studios.
Also in the cast are Marina Berti, Hugh Billingsley, Jerry Brown, Robert Brown, Richard Coleman (Metellus), Richard Hale (Gaspar), John Le Mesurier, Cliff Lyons, Ferdy Mayne, Tutte Lemkow, Edwin Richfield, Aldo Pini, Laurence Payne (Joseph), José Greci (Mary) and Claude Heater (Jesus), with silent star May McAvoy as a woman in crowd.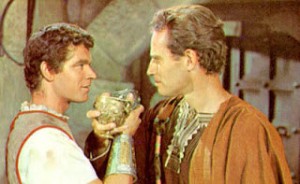 Gay actor Rock Hudson turned down the role of Messala because of its gay subtext, which the very heterosexual actor Heston always denied existed. Writer Vidal said he persuaded Wyler to direct Boyd to play Messala as if he were a spurned gay lover. Wyler agreed and told Boyd to play the role that way, but they decided to keep Heston in the dark about Messala's motivations. This story is told in the 1995 film The Celluloid Closet.
In 2012 Raquel Welch claimed that Boyd (her co-star on Fantastic Voyage) told her he was gay after he rejected her advances. Boyd died in 1977, aged 45, of a heart attack.
Paul Newman turned down the star role, saying he didn't have the legs to play Ben-Hur!
Haya Harareet is one of the actors lost in the movie, making a rather poor acting impression as Esther. An infamous review of Heston and Harareet in the film ran: 'Loved him, hated Hur.' The witty folks at the Film Section of the London Critics Circle have taken this for its motto.
Harareet quit acting in 1964 and was married to director Jack Clayton (he died in 1995). She co-wrote the distinguished screenplay for his film Our Mother's House, starring Dirk Bogarde.
The 1993 UK re-release and 2005 DVD run 222 minutes, 10 minutes longer than the original release.
It was remade for TV as a 2010 mini-series with Joseph Morgan as Ben-Hur. A new version opened on 19 August 2016, Jack Huston as Ben-Hur, Toby Kebbell as Messala and Rodrigo Santoro as Jesus.
© Derek Winnert 2013 Classic Movie Review 78
Check out more reviews on http://derekwinnert.com