Lawrence of Arabia ***** (1962, Peter O'Toole, Omar Sharif, Alec Guinness, Anthony Quinn, Arthur Kennedy, Jack Hawkins, José Ferrer, Claude Rains, Anthony Quayle, Donald Wolfit, I S Johar) – Classic Movie Review 42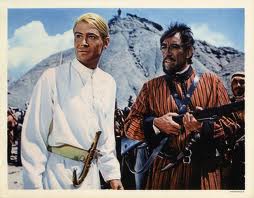 Costing a then record $13 million in 1962, director David Lean's highly distinguished, monumental classic is surely the epic to end all epics, even more than Cleopatra the next year. Beautifully restored  in 2012 for its 50th birthday, building on the 1988 restoration and reconstruction by Robert A Harris, it clearly shows why it won seven Oscars, including Best Picture and Director, and four Bafta awards, including Best Film.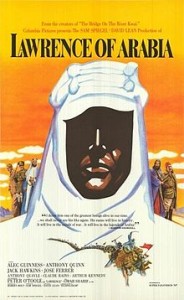 Robert Bolt and Michael Wilson's brilliantly intelligent, thought-provoking script, based on T E Lawrence's book Seven Pillars of Wisdom, is an inspired retelling of the true-life experiences of the young, idealistic British officer in World War One, who is sent to meet the Arab Prince Feisal (Alec Guinness), a leader in the revolt against the Turks. Lawrence leads 50 of Feisal's men across the Nefud desert to attack the strategic Turkish-held port of Aqaba and goes on to be a godlike hero with his Arab comrades.
Lean's inspired direction, Freddie Young's stunning cinematography on magnificent desert locations, John Box's sumptuous art direction and Maurice Jarre's lush (if slightly over-insistent) score were all the proud winners of much-deserved Academy Awards, but shamefully there were no Oscars for the screenplay or actors.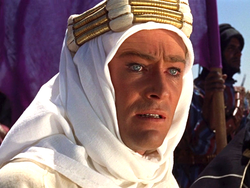 Billed last on the opening credits as 'introducing Peter O'Toole', the youngish (he was already 30), incredibly dashing star gives an astonishing, wildly confident display of acting, bringing an amazing depth and power to the role as the tormented, awkward war hero, who is cynically used by the British military – especially by Jack Hawkins's shamefully pragmatic General Allenby – but never fits it. Despite losing out to Gregory Peck in To Kill a Mockingbird, O'Toole gives a brio turn that is a tour-de-force he would never quite equal.
Among a fine cast to support O'Toole, Omar Sharif scores particularly strongly as the charismatic Arab Sherif Ali, whose friendship with Lawrence starts with an incredibly long camel ride across the desert to a watering hole where he promptly kills Lawrence's guide and friend.
The film opens with Lawrence's death aged only 46  in an ironically mundane way in a motorbike accident in Dorset, England, on 19 May 1935, and, via a St Paul's Cathedral memorial service, soon flashes back to World War One Cairo to recount his series of victorious battles, the Arab Revolt, the capture of Aqaba, the battle of Talifeh, and the fall of Damascus.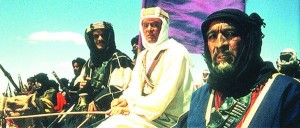 It highlights not only Lawrence's efforts to unite Arab tribes to fight the Turks but also his conflict with the British military, and his doubts and troubles, which include the deaths of both Arab boys he befriends and his killing of a man whose life he has saved at the risk of his own, as well as his torture at the hands of perverted Turkish Bey (José Ferrer) and a guard, hinting at Lawrence's possible masochism and homosexuality.
In its refurbished print, the movie has hardly dated in 50 years, though a couple of things stick out like a sore thumb today: (1) the uncomfortable use of non-Arab actors as Arab characters and (2) it is very noticeable that there is not a single speaking part for a woman in the movie. The 1988/2012 restored print screens in its original roadshow format, with an overture to a blank screen, an intermission, entr'acte to a blank screen and exit music. This version plays on British TV with some trims and without the roadshow format. The original release print runs 202 minutes and the reissue print only 187 minutes.
Editing and sound also won Oscars. Blacklisted writer Wilson was finally credited for his work on the first three drafts of the script by the Writers' Guild of America in 1995 and his name now appears on the film.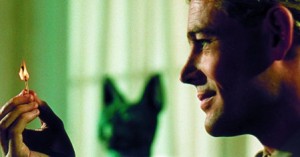 Part of the 1988 restoration involved re-voicing sequences with Peter O'Toole, Alec Guinness, Anthony Quinn, Arthur Kennedy and Charles Gray (as the voice of the late Jack Hawkins). Sal Mineo blamed losing an important role in the Jordanian- and Moroccan-filmed movie 'because I had appeared in a pro-Jewish picture [Exodus], playing a sympathetic Jewish boy who shot four Arabs.'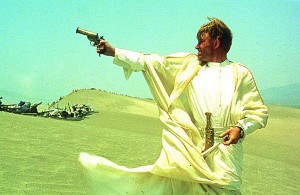 O'Toole died on December 14 2013, aged 81. Best remembered for Lawrence of Arabia, Becket, The Lion in Winter and The Last Emperor, he held the unenviable record of being the actor with the most Oscar nominations without any wins (eight). This beat his old Sixties drinking buddy Richard Burton by one nomination.
He received an honorary Oscar in 2003. He won four Golden Globes and an Emmy. 'I'm not an actor, I'm a movie star!' he said.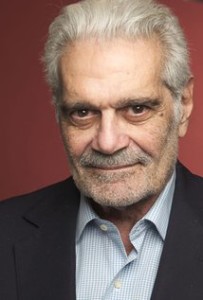 Omar Sharif died of a heart attack on July 10 2015 in Cairo, Egypt, aged 83. He remained best known for playing Sherif Ali in Lawrence of Arabia and the title role in Doctor Zhivago (1965).
http://derekwinnert.com/the-bridge-on-the-river-kwai-1957-alec-guinness-william-holden-jack-hawkins-sessue-hayakawa-classic-movie-review-1396/
© Derek Winnert 2013 Classic Movie Review 42
Check out more reviews on http://derekwinnert.com/