Beetlejuice ***** (1988, Alec Baldwin, Geena Davis, Michael Keaton, Catherine O'Hara, Jeffrey Jones, Winona Ryder, Sylvia Sydney) – Classic Movie Review 189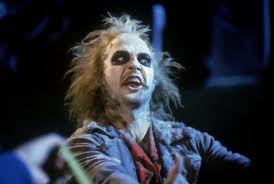 The year before he made Batman, Tim Burton's 1988 fantasy comedy is an early sign of his genius and a near-perfect little masterpiece. A huge surprise at the time as he'd then only directed Pee-wee's Big Adventure (1985), it's one of the most astonishing and iconic movies of the Eighties. Burton describes it as a 'comic version of The Exorcist from the dead people's point of view.'
Alec Baldwin and Geena Davis are ideal as Adam and Barbara Maitland, a nice young married couple who buy their dream home in a New England barn. They spend all their time doing it up and decorating it in the best possible taste, but then suddenly are killed in a car crash drowning accident.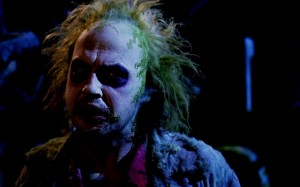 But they find they have a haunting experience with the afterlife when they come back from the dead as ghosts to find their house is already newly inhabited by a family of obnoxious, dead-trendy morons, Delia and Charles Deetz (Catherine O'Hara, Jeffrey Jones) and their daughter Lydia (Winona Ryder), who have located from the big city.
So, obviously, the Maitlands must find a way to scare the Deetzs off. They summon up the services of a bio-exorcist, the wicked spirit Betelgeuse/ Beetlejuice (Michael Keaton), who soon terrifies the new folks with his crazy antics. Unfortunately, he has other things in mind too…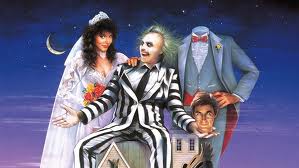 Deliciously quirky, funny, delightful and imaginative, this movie is lovingly made by Burton. It started as a serious horror movie but the comedy element gradually took over as they re-wrote and re-wrote the original screenplay. So now it's a lot of fun, with a few scares and a creepy atmosphere on the side.
Of course it more than just helps that the movie looks so stupendous, with those brilliant special effects (Peter Kuran, Alan Munro, Ted Rae, Robert Short) and set designs by Bo Welch). And it sounds great, thanks to Danny Elfman's catchy score (that's him singing 'Day-oh…' at the start).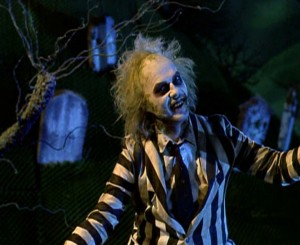 Burton seems to have a special way with his performers. Keaton is wonderful. The movie wouldn't work if he weren't. His hilarious and inventively staged tour-de-force as the title spook character Beetlejuice ('the Ghost with the Most') never runs out of juice. There's just the right amount of him to propel the entire movie, without overbalancing it or letting him get boring.
Taking it this big is risky, but Keaton pulls it off magnificently. With his only two weeks of filming, there's only 17 and a half minutes of screen time for Keaton but he dominates the entire 92-minute movie. No wonder it's his favourite film. Keaton's much-deserved reward was to be cast as Burton's Batman.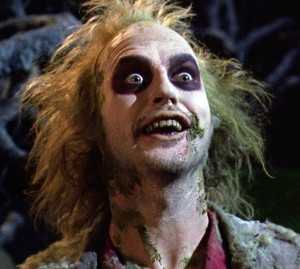 Baldwin and Davis are likeable and appealing leads, O'Hara (then best known as mum in Home Alone), Jones and old Sylvia Sydney (as Juno) are just superlative, while Glenn Shadix (as Otho), talk show host Dick Cavett and singer Robert Goulet add to the fun. The dinner-party dance to the 'Banana Boat Song' (sung by Harry Belafonte) sequence is side-splitting. The song was played at Shadix's funeral in 2010.
The makeup won an Oscar for Best Makeup (Ve Neill, Steve La Porte, Robert Short).
Betelgeuse is named after a bright red star in the Orion constellation.
Burton proposed the title Scared Sheetless when the studio objected to Beetlejuice.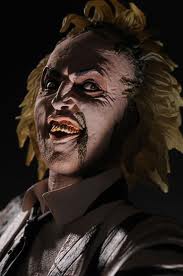 O'Hara (replacing a sick Anjelica Huston) met her future husband Bo Welch while filming.
After its box-office success, a sequel was proposed Beetlejuice Goes Hawaiian but never made when Burton went on to two Batman movies.
Burton wanted Sammy Davis Jr for Beetlejuice, but Warner Bros refused, and later Dudley Moore was considered.
Michael Keaton returned for Tim Burton's Batman 1988 and Batman Returns (1992).
© Derek Winnert 2013 Classic Film Review 189
Check out more reviews onderekwinnnert.com