The Exorcist ***** (1973, Ellen Burstyn, Max von Sydow, Linda Blair, Lee J Cobb, Jason Miller) – Classic Movie Review 110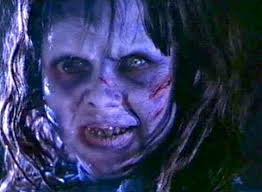 The big daddy of all exorcism movies, often copied, but never bettered. Made in 1973, it's still a terrifying, gut-wrenching supernatural horror yarn.
Linda Blair stars as a 12-year-old girl, Regan MacNeil, living in comfortable middle-class Washington, who is possessed by Satan, and causes a devil of a murderous situation. Finally, her terrified actress mom Chris (Ellen Burstyn) and kindly young priest Father Damien Karras (Jason Miller), from nearby Georgetown University, are forced to call in a previously experienced exorcist, Father Lankaster Merrin (Max von Sydow).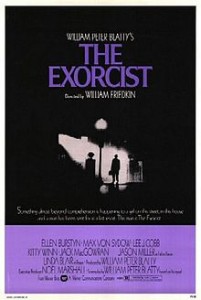 Director William Friedkin is totally in control of the pacing, shocks and performances in his first-rate, ground-breaking horror film. The pea-soup spewing, 360 degrees head turning and levitation have entered movie history, and, despite the rollercoaster ride of shocks, there's a true sense of evil hanging over the picture. And that nine-minute climactic exorcism scene is a humdinger.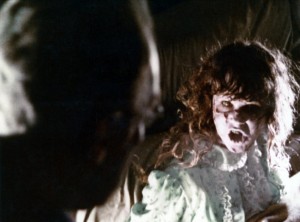 Hiring a bunch of quality actors rather than stars pays off handsomely, with Burstyn truly remarkable, Oscar nominated Blair unforgettable, Miller quietly effective and von Sydow still the best exorcist in movie history. Burstyn, Blair and Miller were all Oscar nominated.
Lee J Cobb, Kitty Winn and Jack MacGowran are also memorable as Lieutenant William Kinderman, Sharon Spencer and Burke Dennings. Father Dyer is played by a real-life priest, William O'Malley, a teacher at Fordham University.
William Peter Blatty's distinguished screenplay from his own bestseller earned him an Oscar for best adapted screenplay. The film also won the Oscar for best sound for Robert Knudson and Chris Newman. Mercedes McCambridge recorded Blair's demonic devil voice.
The special makeup is by Dick Smith, who hired famous FX genius Rick Baker as his assistant. It was a box-office sensation: on a $12million cost, it took $180million originally at the US box office.
A number of UK councils banned the movie in cinemas and, bizarrely, it was long banned from British video release, a victim of the 1984 Video Recording Act, and not finally cleared till 1999. What was so shocking: Blair's foul-mouthed dialogue, what she does with a crucifix?
It was re-released in 1998 in a new print (which cleans up and brightens the already fading, grainy images of the original) and in stereo to celebrate its 25th birthday. And it has stood the test of time, with its power undiminished, though small allowances have to be made for the silly 70s hairdos and clothes.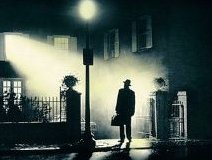 It is followed by two sequels, Exorcist II: The Heretic and The Exorcist III, as well as a parody, Repossessed (with Blair), plus a prequel, Exorcist: The Beginning, in 2004, directed by Renny Harlin. Scary Movie 2  parodies several scenes from the original.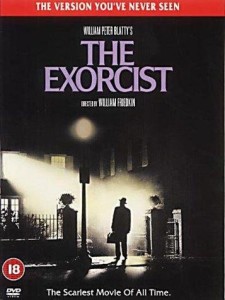 The original runs 122 minutes but The Exorcist: The Director's Cut, released in 2000, has 10 exciting extra minutes of footage, including the brilliant 'spider-walk' sequence (performed by contortionist Linda R Hager). This splendid refurbishment removes the remaining rough edges and makes it seem startlingly modern and scary.
This restoration cost $1million and took $40million at the US box office, no doubt prompting the 2004 Exorcist: The Beginning prequel. The 2000 Exorcist is the version to see. Although he cut the original, it's now Friedkin's preferred version. Friedkin cut out the 'spider-walk' because the wires taking Hager downstairs could be seen, but in 2000 they could be digitally removed. Hey, presto!
The opening scenes of the archaeological dig at Ninevah, in Hatra, Iraq, were the last to be shot. Blatty's story is based on a real-life exorcism of 1949 in Maryland and Missouri.
Evangelist Billy Graham said a demon was living the movie's reels. Friedkin asked the film's technical adviser to exorcise the set, but he refused, though he visited the set and gave it his blessing, working to reassure cast and crew. Blair received death threats from believers who thought the film glorified Satan; she needed guards to protect her for months after filming.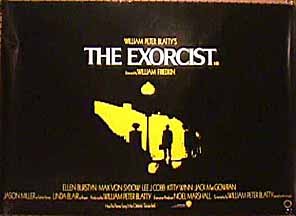 Warner Bros found American preview audiences didn't know or understand the word 'exorcist' and wanted to change the title. The sound of the demon leaving Blair's body is a recording of pigs going to the slaughter. Now that's scary!
American cinemas thoughtfully provided Exorcist barf bags for delicate patrons.
aged 89.
© Derek Winnert 2013 Classic Movie Review 110
Check out more reviews on http://derekwinnert.com