Batman ***** (1989, Michael Keaton, Jack Nicholson, Jack Palance, Kim Basinger, Michael Gough, Pat Hingle) – Classic Movie Review 528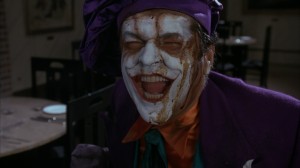 No superlatives are too extravagant for director Tim Burton's 1989 triumph. It is a dazzling comic-book film for sophisticated adults and fanboys who love the mysterious vision, dark force, sinister world, doom-laden mood and weird, vengeful characters of Bob Kane's DC Comics.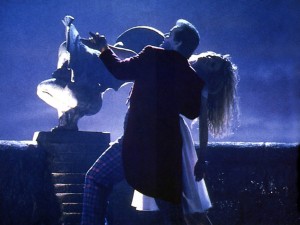 A glorious-looking movie, it won an Oscar for production designer Anton Furst's amazing art direction and Peter Young's beautiful set decoration. It was a box-office sensation as the top grossing movie of 1989, starting off the long-running franchise.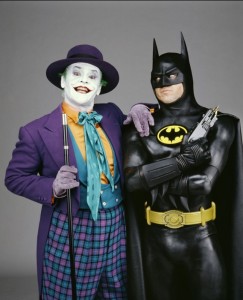 Everything is astute and imaginative about this perfect comic-book film but the casting is particularly canny.
Lightweight comedic actor Michael Keaton is chilling in the gloomy serious straight part of billionaire philanthropist Bruce Wayne who rights wrongs as Batman by night, while heavyweight dramatic actor Jack Nicholson is hysterically funny as his nemesis, the crazed psychopathic Jack Napier, aka The Joker.
Horribly disfigured and gone insane after a fire in a chemical factory, Napier, the one-time enforcer for Boss Carl Grissom (Jack Palance), seeks revenge by seizing control of Gotham's underworld.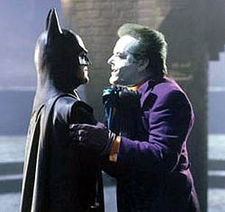 In a less rewarding role, Kim Basinger is the female lead as Vicky Vale, a prize-winning photo journalist who wants to uncover the secret of the mysterious Batman, while Michael Gough and Pat Hingle take on what turned into recurring roles as Gotham City police commissioner Jim Gordon and Bruce Wayne's butler Alfred Pennyworth.
Billy Dee Williams plays Gotham's D.A. Harvey Dent, and he and Gordon are trying to make the city safe for the good people in town, but they're fighting a losing battle against The Joker, till the Dark Knight rises.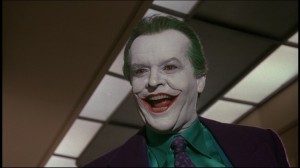 Danny Elfman's eerie score and Prince's songs, particularly Partyman, add hugely to the pleasure this astonishingly brilliant movie brings. Makeup (Paul Engelen, Nick Dudman), costumes (Bob Ringwood), sound and special effects (Derek Meddings, John Evans) are other triumphs. Everything's taken care of, lovingly and beautifully.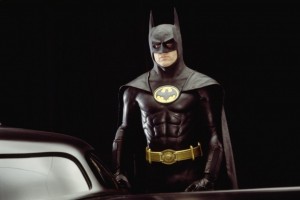 Nicholson got a Golden Globe and Bafta nomination but otherwise no recognition. Keaton didn't even get that.
It's really not for younger children as there's some violence and swearing as well as a dark tone.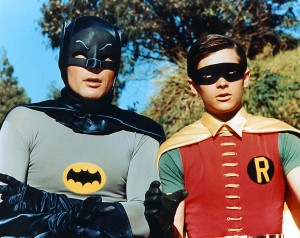 Adam West and Burt Ward re-created their TV roles as billionaire Bruce Wayne and his ward Dick Grayson for the 1966 Batman movie.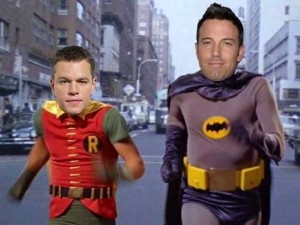 Even after the fiasco of his Daredevil casting, Ben Affleck is cast in 2013 as the new Batman. Matt Damon denied rumours that he would play Robin!
After his work here, Anton Furst tried in vain to find directing work. Contractual obligations kept him from working on the sequel Batman Returns. He studied theatre design at the Royal College of Art in London, and designed the $15 million Planet Hollywood Manhattan restaurant co-owned by Arnold Schwarzenegger, Bruce Willis and Sylvester Stallone. Furst committed suicide in 1991 shortly after breaking up with actress Beverly D'Angelo.
Alas Nicholson didn't reprise his role as The Joker in Batman Returns (1992) but he reunites with Burton for Mars Attacks!
Sequels: Batman Returns (1992), Batman Forever (1995) and Batman and Robin (1997).
http://derekwinnert.com/batman-returns-classic-film-review-565/
http://derekwinnert.com/batman-and-robin-classic-film-review-524/
http://derekwinnert.com/mars-attacks-classic-film-review-168/
© Derek Winnert 2013 Classic Film Review 528 derekwinnert.com
Link to Derek Winnert's home page for more film reviews: http://derekwinnert.com/