Planet of the Apes *** (2001, Mark Wahlberg, Tim Roth, Helena Bonham Carter) – Classic Movie Review 1414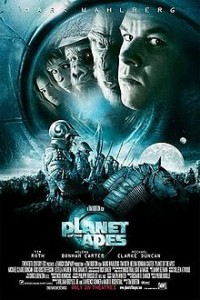 In 2001, everyone was going bananas for director Tim Burton's ape-tising remake of the 1967 movie.
Mark Wahlberg takes on Charlton Heston's old role as US Air Force astronaut Captain Leo Davidson who, chasing a chimp lost in space in the year 2029, crash-lands on a strange planet inhabited by intelligent apes who have enslaved humans. Leo is befriended by cute female chimpanzee named Ari (Helena Bonham Carter), he liberates the slaves, starts a rebellion and heads for a 'forbidden zone', pursued by ape army general Thade (Tim Roth).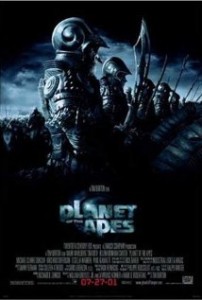 There's no monkeying about from director Tim Burton, who keeps the film witty, smart and exciting, building up to a controversial shock finale. It's a great-looking film, with marvellous ape makeup, sets and locations. Making a string hero, Wahlberg puts plenty of muscle into the movie, but it's Carter, Roth and Heston himself, in a film-stealing cameo as Roth's dad, who provide most of the real cleverness and thrills.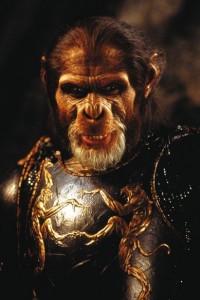 It also stars Michael Clarke Duncan as gorilla military officer Colonel Attar, Paul Giamatti in the comedy role of Limbo, an orangutan who works in the trading of human slaves, and Estella Warren as curvaceous female slave Daena, who also evelops a romantic attraction to Leo.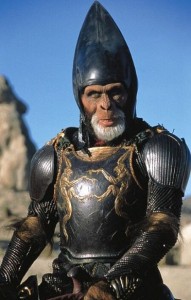 Planet of the Apes is a good, though not great remake, and not as memorable as the original, but it's certainly even better than a trip to the zoo.
Many people found the plot confusing, the storyline weak and disliked the ambiguous ending, but everybody deservedly praised Rick Baker's prosthetic makeup designs. Burton said the ending was not supposed to make any sense, but it was more of a cliffhanger to be explained in a sequel. Despite mixed reviews, it was a financial success with a box office take of $362million against a cost of $100million. But 20th Century Fox surprisingly and disappointingly decided not to produce a sequel, though it rebooted the franchise in 2011 with Rise of the Planet of the Apes and Dawn of the Planet of the Apes in 2014.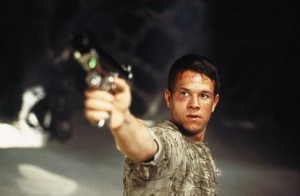 When asked whether he would be interested in working on a follow-up, director Tim Burton replied: 'I'd rather jump out a window.' It was the last film he worked on with his former fiancée, actress Lisa Marie. After their relationship broke up, he started one with Helena Bonham Carter.
Disgustingly, Planet of the Apes won Worst Remake at the 22nd Golden Raspberry Awards, while Heston and Warren won awards as Worst Supporting Actor and Actress .
© Derek Winnert 2014 Classic Movie Review 1414
Check out more reviews on http://derekwinnert.com/