A Fistful of Dollars [Per un pugno di dollari] ***** (1964, Clint Eastwood, Gian Maria Volontè, Marianne Koch) – Classic Movie Review 1366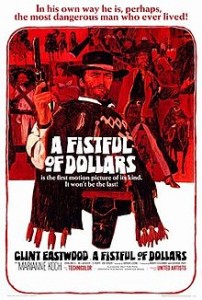 A Fistful of Dollars (1964) – Per un pugno di dollari in Italian – is the first of writer-director Sergio Leone's much admired, incredibly popular, now cult classic series of spaghetti Westerns. It was eventually a huge world hit: costing only $200,000, it took $14,500,000 at the box office, more than any other Italian film up till then. Few spaghetti westerns had been released in the United States at this point, and this was their breakthrough.
Leone's screenplay is unofficially based on Akira Kurosawa's Japanese classic Yojimbo (1961), so counts as a cheeky remake. The movie establishes a super-cool 34-year-old Clint Eastwood as the slit-eyed, cigar-chomping gunman caught in the crossfire of two vicious gangs.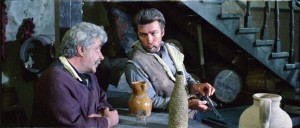 The poncho-wearing Man With No Name finally elevated Eastwood from bit player and TV actor (Rawhide) into a major movie star player. A Fistful of Dollars also turned Leone into a director of international repute and made the work of composer Ennio Morricone world renowned as the unmistakable sound of Westerns in the 60s, along with that of Elmer Bernstein in America.
Leone wanted Dimitri Tiomkin-style music, so Morricone's trumpet theme follows Tiomkin's El Degüello theme from Rio Bravo (1959) and the opening title whistling music recalls Tiomkin's whistling in his Gunfight at the OK Corral (1957).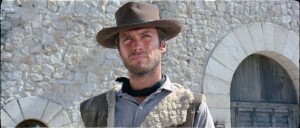 Eastwood stars alongside the Euro cast of Gian Maria Volonté, Marianne Koch, Wolfgang Lukschy, Sieghardt Rupp, José Calvo, Antonio Prieto, and Joseph Egger. Cast and crew took on American-sounding names, including Leone (as Bob Robertson), Volonté (as Johnny Wels) and Morricone (as Dan Savio).
Incredibly stylish visually, morally ambiguous, extremely violent for its time, sometimes sadistically so, and quite unlike anything that went before it, A Fistful of Dollars changed the face of the Western, reviving the genre's credibility and popularity. Supposedly influenced by John Ford and Akira Kurosawa for use of landscape and directorial method, Leone added a key operatic touch, with extreme close-ups on characters' faces that are intended to function like arias in an opera.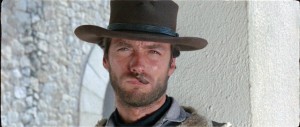 Unfortunately, the rights to use the Yojimbo screenplay weren't cleared and the production was sued for plagiarism, eventually being settled after a lengthy but successful lawsuit by Toho studios. A Fistful of Dollars was released in Italy in September 1964 but the lawsuit held up the film's release in the US and Britain till January 1967.
For his Man With No Name, non-smoker Eastwood bought the black jeans from a sport shop on Hollywood Boulevard, the hat in a Santa Monica wardrobe firm, and the trademark cigars in a Beverly Hills store. He also brought props from his Rawhide TV show, including a Cobra-handled Colt, a gunbelt and spurs. The poncho was bought locally in Spain.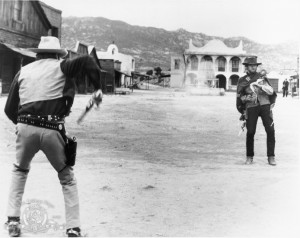 It became the first instalment of a trilogy, known as the Dollars Trilogy or The Man With No Name Trilogy, and was followed by For a Few Dollars More (1965) and The Good, the Bad and the Ugly (1966), also starring Eastwood. He said: 'In Rawhide I did get awfully tired of playing the conventional white hat. The hero who kisses old ladies and dogs and was kind to everybody. I decided it was time to be an anti-hero.' Leone paid a backhanded compliment to Eastwood: ' More than an actor, I needed a mask and Eastwood, at that time, only had two expressions: with hat and no hat.'
Muscleman Steve Reeves turned down the Man With No Name part. It was a big mistake because ironically the film's success marked the end of the era Reeves's sword and sandal Euro movies. But he wasn't the only actor to make a career mistake. Charles Bronson, Henry Silva, Rory Calhoun, Tony Russel, Ty Hardin, Richard Harrison and James Coburn all also turned down the role.
A Fistful of Dollars was shot in Spain, mostly near Hoyo de Manzanares close to Madrid, but also (like its two sequels) in the Cabo de Gata-Níjar Natural Park in Almería province.
© Derek Winnert 2014 Classic Movie Review 1366
Check out more reviews on http://derekwinnert.com/