Cinema Paradiso [Nuovo Cinema Paradiso] ***** (1988, Philippe Noiret, Salvatore Cascio, Enzo Cannavale, Antonella Attili, Marco Leonardi, Leopoldo Trieste, Jacques Perrin, Brigitte Fossey) – Classic Movie Review 503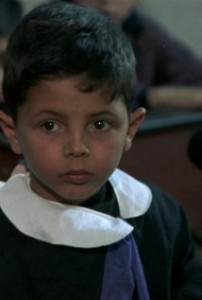 Writer-director Giuseppe Tornatore's glorious 1988 love letter to the movies is now deservedly hailed as a classic of Italian cinema. This 1989 Best Foreign Film Oscar-winner and Cannes Jury prize-winner would be worth watching for the climactic sequence alone, in which we're taken on a magic trip through the cinema's greatest moments.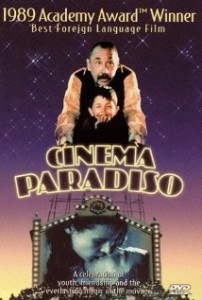 But all of Tornatore's film is magical, starting with the magnetic performances of Philippe Noiret as Alfredo, the kindly grouch of a projectionist at the Sicilian small-town fleapit picture house Cinema Paradiso, and Salvatore Cascio (just nine) as the infatuated little kid Toto who can't take his big eyes off the screen. These two, and their sweet, growing relationship that turns into a deep friendship are the heart and soul of the movie.
The old man tries to kick Toto out of the projection box that fascinates him so much, but helps the boy out against his strict single mother and eventually seeks the kid's help in a literacy exam in return for teaching him the skills and tricks of the projection trade.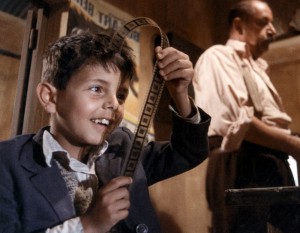 Eventually, with the boy grown into a handsome young man (Marco Leonardi) who falls for a girl who disappears, the projectionist tells him he must leave Sicily for a new life in Rome and never come back, never be in contact with him again.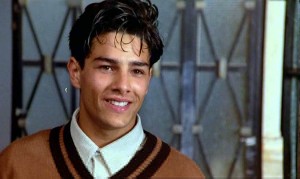 This is the first big tearful moment in the movie but the final scene is going to top it, with one of the most tear-jerking scenes in any movie.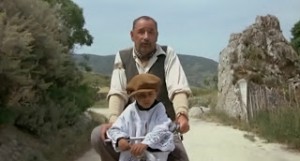 The film runs in one long epic flashback but it starts with the grown-up and now middle-aged Toto (played by Jacques Perrin) finally going back to the town of his birth after a gap of 30 years on hearing the news that the old projectionist has died.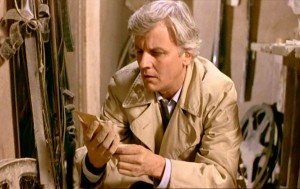 He's reunited with his mother, old friends and old colleagues for the funeral and learns that the Cinema Paradiso has been closed for six years and is about to be reduced to rubble to build a car park.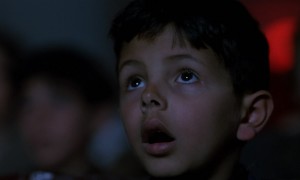 Cinema Paradiso is a film for everybody who loves the movies, made with total tender loving care and a lot of heart, warmth and typically Italian sentimentality by director Tornatore. Cinematographer Blasco Giurato, composer Ennio Morricone and production designer Andrea Crisanti provide major, distinguished contributions to a visually and aurally thrilling experience. You won't be able to get Morricone's music out of your head for hours.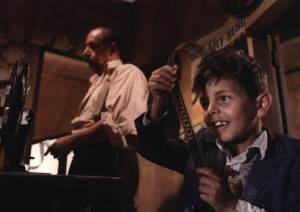 In celebrating the warm values of the past, Italy's southern culture and the golden age of the movies, Tornatore records the death of cinema in Italy and bemoans his countrymen's move away from culture as a nation. He achieves a cleverly contrived film built out of many contradictions, giving it its power and its subtlety. It's a simple story with a profound message, emotionally it's both cosy and harsh, and its ending is blatantly nostalgic but devastatingly moving at the same time.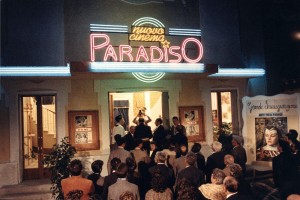 The 122-minute UK release version is clumsily hacked, with whole sections inexplicably missing. It's plays like the Reader's Digest version of the film. Cinema Paradiso: The Special Edition is something else, a satisfying wallow in an epic life-long personal journey. It runs a whole hour longer at 180 mins.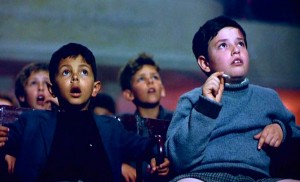 After its beautiful restoration in 2013 for its 25th anniversary, it's time to see it on a big screen, if you can, and then buy it on DVD to watch the whole movie, and particularly the film clips, over and over again and again.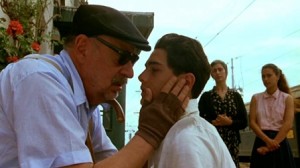 Cascio won the Bafta award for Best Actor in a Supporting Role. He says:  'Cinema Paradiso is about the power of dreams. I'd never even been to the cinema before. I didn't really know what it was.'
Noiret died onaged 76.

It's no accident that the boy shares a name with the celebrated Italian star comedy actor Totò (1898-1967), who appears in several of the archive clips and posters.
© Derek Winnert 2013 Classic Film Review 503 derekwinnert.com