Yojimbo ***** (1961, Toshirô Mifune, Eijirô Tôno, Tatsuya Nakadai) – Classic Movie Review 4924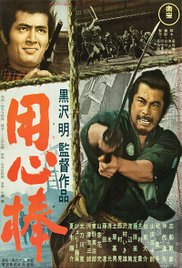 Co-writer/ director Akira Kurosawa's 1961 Japanese adventure stars Toshiro Mifune as crafty wandering samurai Sanjuro Kuwabatake, who hires himself out as a professional killer and bodyguard (yojimbo in Japanese) to both sides of gangsters in a feuding rural one-horse town in 19th-century Japan. When one side of the gangsters gets the upper hand, Sanjuro joins the other for more money, leaving a trail of death and destruction.
Mifune is magnificent in this cynical, funny and exciting samurai action thriller movie, directed with the greatest of style and authority by maestro Kurosawa. Grasping profound notions of good and evil, and even the meaning of life, Kurosawa simply concludes that everybody is bad, and that, if you win, it is through cunning or strength.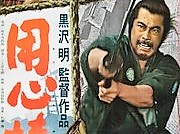 It runs 110 minutes, was released by Toho, is written by Ryuzo Kikushima and Akira Kurosawa, is shot in black and white by Kazuo Miyagawa, is produced by Tomayuki Tanaka and scored by Masaru Sato.
Also in the cast are Eijirô Tôno, Tatsuya Nakadai, Kamatari Fujiwara, Takashi Shimura, Seizaburo Kawazu, Isuzu Yamada and Hiroshi Tachikawa.
Kurosawa came up with the idea of a dog carrying a human hand to show Sanjuro he was entering a bad town.
Masaru Sato's atypical score was inspired by the work of Henry Mancini. He met him shortly after the film was released and discussed the soundtrack.
Much admired in itself – it is on Roger Ebert's Great Movies list for example – it is also a great source of inspiration for other film-makers. It was remade as Clint Eastwood's A Fistful of Dollars (1964) without permission, and Kurosawa sued its maker Sergio Leone. Django (1966) was also unofficially inspired by this movie. Walter Hill officially remade Yojimbo as Last Man Standing (1996) starring Bruce Willis, crediting Kurosawa's film.
Ironically, in itself, it seems like an unofficial, uncredited film version of the plot of Dashiell Hammett's novel Red Harvest, in which a detective comes to a small city and pits both sides in a gang war against each other. The scene where Mifune is held and beaten is similar to that in Hammett's The Glass Key. Red Harvest has never been officially filmed, but The Glass Key has been filmed twice, The Glass Key (1935) and The Glass Key (1942).
Kurosawa filmed a sequel: Sanjuro (1962).
© Derek Winnert 2017 Classic Movie Review 4924
Check out more reviews on http://derekwinnert.com