Once Upon a Time in America ***** (1984, Robert De Niro, James Woods, Elizabeth McGovern, Joe Pesci. Burt Young, Tuesday Weld, Treat Williams, Danny Aiello) – Classic Movie Review 139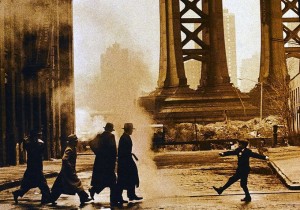 In his final film, Sergio Leone's great 1984 epic is a gargantuan gangster movie that follows the fortunes of a couple of friends who make a pact to share their lives all the way from the 1920s to the 1960s. Robert De Niro and James Woods star as David 'Noodles' Aaronson and Max Bercovicz, in this exhilarating marathon tale of two Jewish New York hoodlum buddies.
In the story, based on the novel The Hoods by Harry Grey, they meet again 35 years after their glory days in the years of Prohibition when one of them returns to Manhattan's Lower East Side. Leone brings the operatic style of his Spaghetti Westerns to the gangster movie, and spins an elaborate personal fantasy that both celebrates and comments on it.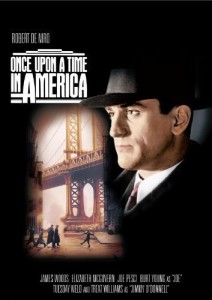 In the huge, flashily written star roles, De Niro and Woods have plenty of room to expand and develop their performances, so that they can be especially remarkable. It's a bit of a shock, looking back, as they show what great actors they were in their prime. But there's knockout acting all round. A choice cast of Elizabeth McGovern, Treat Williams, Tuesday Weld, Burt Young, Danny Aiello, William Forsythe and Joe Pesci all greatly impress.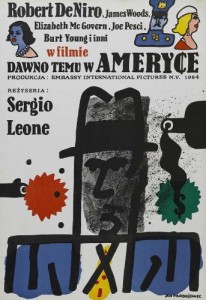 Ennio Morricone's score, Tonino Delli Colli's cinematography, James Singellis's art direction, Carlo Simi's production designs and Gabriella Pescucci's costume designs are all amazing pieces of work, providing a brilliantly authentic, realistic atmosphere and great movie texture. This is a movie that's just a joy to look at and take in, in a relishable submersive experience. With an incredibly lavish budget of $30million, fortunes are spent everywhere, but particularly on re-creating the Prohibition-era New York Lower East Side. All this is richly enjoyable.
However, partly because of its vast length, this became a notoriously troubled film. Yet again, making a hugely long movie has led to terrible problems with distribution and getting it to the audience.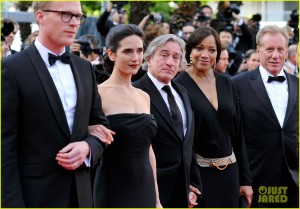 The pointlessly and foolishly hacked American version, cut by a whole hour and a half and running only 139 minutes, has no flow or clarity, which probably may help to account for the film's failure in the US, where it took only $3million back at the box office. After the film's bad reception by American critics at the Cannes Film Festival, the studio hacked the film against Leone's wishes and rearranged the material in chronological order, ironically making it less comprehensible.
American critics again attacked the new version on release in the US. It's scary that critics can have the power to destroy a film's reputation and chances, though, to be fair, they can also make a film's reputation and chances.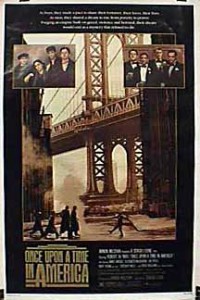 Even the long English-language version suffers hefty cuts and has obvious narrative problems, with truncated roles and plotlines, but this version is still hugely impressive. However, there's a happy ending as the film finally got its due respect. With the original Italian version running at a satisfactory 229 minutes, sense and brilliance are magnificently restored in the 2012 restored version (satisfyingly premiered at the Cannes Film Festival) at an astounding 259 minutes.
Seen as Leone intended, Once Upon a Time in America is very nearly in The Godfather class.
It is Jennifer Connelly's début, as the girl Deborah (heroine Elizabeth McGovern's younger self), aged 14. Connelly accompanied De Niro and Woods at Cannes in 2012.
© Derek Winnert 2013 Classic Film Review 139 derekwinnert.com