World Without End *** (1956, Hugh Marlowe, Nancy Gates, Rod Taylor) – Classic Movie Review 3983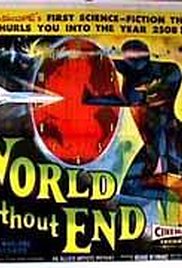 Writer-director Edward Bernds's daft but enjoyable 1956 sci-fi movie tells the tale of a space mission of four astronauts returning from mankind's first mission to Mars. They are caught in a time warp and unwittingly travel forward in time, crashing on to a post-apocalyptic 26th century Earth inhabited by fearsome monsters and mutant troglodyte cavemen Earthlings.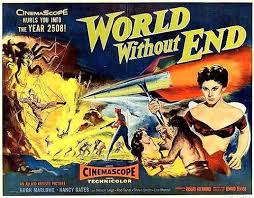 But for fearsome monsters read rubbery giant spiders, and for troglodytes read love-struck women in hip-hugging lycra. Hugh Marlowe, Nancy Gates and Rod Taylor star. They must battle to save humanity and build a new world if they can.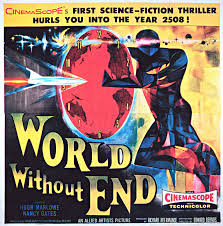 The intriguing plot (predating the similarly themed Planet of the Apes and accessing the H G Wells novel The Time Machine), good cast, Bernds's taut screenplay, brisk action and fast-moving direction lift a standard, cheap-looking Fifties futuristic hokum B-movie of the kind collectors of kitsch have come to love so well.

Also in the cast are Booth Colman, Christopher Dark, Lisa Montell, Nelson Leigh, Everett Glass, Stanley Fraser, Shirley Patterson, William Vedder, Paul Brinegar, Herb Vigran, Mickey Simpson and Rankin Mansfield.
© Derek Winnert 2016 Classic Movie Review 3983
Check out more reviews on http://derekwinnert.com