Queen of Outer Space * (1958, Zsa Zsa Gabor, Eric Fleming, Dave Willock, Laurie Mitchell) – Classic Movie Review 3914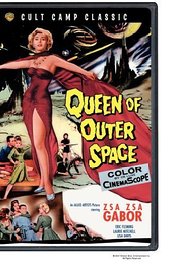 Director Edward Bernds's hilariously bad 1958 schlock camp cult sci-fi thriller stars Zsa Zsa Gabor (born 1917) as Talleah, Eric Fleming as Captain Neal Patterson and Dave Willock as Lieutenant Mike Cruze, American astronauts drawn by a mysterious force to the planet Venus, inhabited only by beautiful women.
It is set in a futuristic 1985. The poster and title credit of 'from a story by Ben Hecht' is probably an overstatement, while the credit of 'outline' to Hecht, with the writing credit going to Charles Beaumont, is probably right.
Laurie Mitchell also stars as masked Queen Yllana, the exotic despotic Venusian queen of Outer Space. Paul Birch plays Professor Konrad, Lisa Davis is Motiya, Patrick Waltz is Lieutenant Larry Turner, Barbara Darrow is Kaeel and Marilyn Buferd is Odeena.
Unusually, the film has a 15-minute prologue before the opening credits.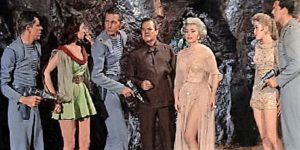 Costumes were re-used or copied from Forbidden Planet (1956). The colours of the uniforms of the armed women on Venus (red, blue, gold) are the same as the uniforms in the original Star Trek (1966) series. Many of the models, sets and effects are taken from World Without End (1956). The rocket ship model was also used as a comic prop by Huntz Hall in the 1954 Bowery Boys comedy Paris Playboys (1954).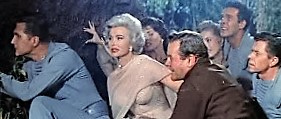 Bernds said Gabor got very testy with the actresses playing the Venusian girls, mostly beauty contest winners many years younger than her, and became difficult to work with after she noticed the crew was paying more attention to the Venusians than to her.
RIP radiant Budapest-born star Zsa Zsa Gabor, who died on 18 aged 99. Moulin Rouge is probably her best movie.
© Derek Winnert 2016 Classic Movie Review 3914
Check out more reviews on http://derekwinnert.com