The Terrornauts * (1967, Simon Oates, Zena Marshall, Charles Hawtrey, Patricia Hayes, Stanley Meadows, Max Adrian) – Classic Movie Review 4408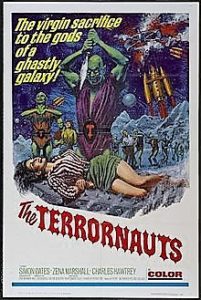 Director Montgomery Tully's insipid 1967 science fiction film for Amicus Productions was released with They Came from Beyond Space in a double bill famously comprising 'the two worst films the company ever produced'.
Zena Marshall stars as Sandy Lund, a secretary fighting alien enemies, in her last feature, though she lived till age of 84. Charles Hawtrey is weirdly cast as an accountant. Simon Oates, Patricia Hayes, Stanley Meadows and Max Adrian also head the eccentric cast.
The film is adapted for screen by John Brunner, based on The Wailing Asteroid by Murray Leinster, in which scientists from a radio telescope laboratory are kidnapped and taken into space aboard a saucer inhabited by robots, who presents them with a series of intelligence tests.
Whatever the film's shortcomings, there is nothing wrong with the title or advertising – 'The virgin sacrifices to the gods of a ghastly galaxy!'
It was shot at Twickenham Film Studios, Middlesex, UK.
After The Terrornauts, Zena Marshall retired for a domestic life with her third husband, writer- producer Ivan Foxwell. Her claim to posterity rests on her role as Eurasian double agent Miss Taro in the first Bond film Dr No (1962) when her character was the first woman to be seduced by Sean Connery's 007.
© Derek Winnert 2016 Classic Movie Review 4408
Check out more reviews on http://derekwinnert.com