Those Magnificent Men in their Flying Machines *** (1965, Stuart Whitman, Sarah Miles, Robert Morley, James Fox, Eric Sykes, Terry-Thomas) – Classic Movie Review 6279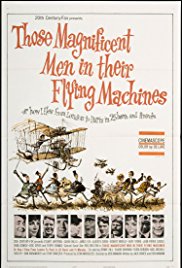 Edwardian pioneer fliers compete in publisher Lord Rawnsley (Robert Morley)'s 1910 London-to-Paris air race in every kind of ramshackle contraption. Caddish Sir Percy Ware-Armitage (Terry-Thomas) is willing to cheat, upstanding guards officer Richard Mays (James Fox) keeps a stiff lip and gung-ho American Orvil Newton (Stuart Whitman) rides over in cowboy style. Certain unsporting competitors are willing to resort to bad conduct, tricks and even sabotage to win the race.
Co-writer/ director Ken Annakin's vintage 1965 epic family adventure slapstick comedy is more than ample in title (Those Magnificent Men in their Flying Machines . . . or How I Flew from London to Paris in 25 Hours and 11 Minutes), running time (138 minutes) and star turns (Sarah Miles, Stuart Whitman, Robert Morley, Eric Sykes, Terry-Thomas, James Fox, Alberto Sordi, Gert Fröbe and Jean-Pierre Cassel)
But, alas, it is too thin in the witty repartee and farcical sight gag departments in Annakin and Jack Davies's good-natured but somewhat struggling screenplay.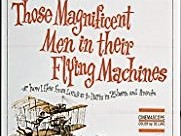 So not quite Magnificent then, but, still, the colourful movie looks pretty magnificent, thanks to Christopher Challis's cinematography and Tom Morahan's production designs. And also there is jolly music in Ron Goodwin's score and there are nice cameos from treasured British TV comics Eric Sykes, Benny Hill (as Fire Chief Perkins), John le Mesurier Tony Hancock and William Rushton.
Also in the cast are Karl Michael Vogler (as Captain Rumpelstrosse), Irina Demich, Flora Robson (as Mother Superior), Sam Wanamaker, Red Skelton, Fred Emney, Cicely Courtneidge, Gordon Jackson, Jeremy Lloyd, Davy Kaye, Zena Marshall, Millicent Martin, Eric Pohlmann, Marjorie Rhodes, Norman Rossington, Jimmy Thompson, Michael Trubshawe, Gerald Campion, Graham Stark, Maurice Denham, Robin Chapman, Ronnie Stevens, Ferdy Mayne and Bill Nagy.
Don Sharp directed the second unit action sequences. It is produced by Stan Marguilies and Jack Davies.
The 20th Century Fox provides quite a big budget of $5.6 million, but it was a big hit, grossing $31.1 million US.
Caricatures of the main cast drawn by Ronald Searle are seen on screen.
© Derek Winnert 2017 Classic Movie Review 6279
Check out more reviews on http://derekwinnert.com