The Bad Lord Byron *** (1949, Dennis Price, Joan Greenwood, Linden Travers, Sonia Holm, Mai Zetterling) – Classic Movie Review 6123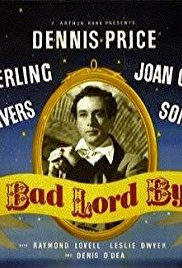 Director David MacDonald's entertaining 1949 historical biopic was originally scorned because it lacks a seriousness of purpose. But now it can be admired as an enjoyable piece of good fun, as well as for its excellent performances from a splendid British cast headed by Dennis Price as the poet and soldier Lord Byron, a camp Joan Greenwood as his free-thinking mistress Lady Caroline Lamb, Sonia Holm as his conventional wife Annabella, Linden Travers as Augusta Leigh and Mai Zetterling, resplendent as Teresa Guiccioli.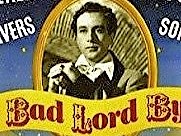 It is one of Price's best roles in a long career, probably second only to his charming serial killer Louis Mazzini in Kind Hearts and Coronets. But The Bad Lord Byron was a critical and commercial failure, leading Price to fall into severe depression.
Five credited pairs of hands among the writers bring script hesitancies to this intriguing costume romp from the pages of history, told in flashback from Lord Byron's Greek deathbed.
The script writers are Terence Young, Anthony Thorne, Peter Quennell, Laurence Kitchin and Paul Holt.
Also in the cast are Raymond Lovell, Leslie Dwyer, Denis O'Dea, Ernest Thesiger, Nora Swinburne, Irene Browne, Barry Jones, Henry Oscar, Archie Duncan, Liam Gaffney, John Salew, Wilfrid Hyde White, Zena Marshall and Betty Lynne.
It is shot in black and white by Stephen Dade and David Harcourt, produced by Sydney Box and Aubrey Baring, and scored by Cedric Thorpe Davie.
Dennis Price (23 June 1915 – 6 October 1973), born Dennistoun Franklyn John Rose-Price, started his long movie career in A Canterbury Tale in 1944. He is also fondly remembered for playing the valet Jeeves in the BBC TV series The World of Wooster (1965–67).
© Derek Winnert 2017 Classic Movie Review 6123
Check out more reviews on http://derekwinnert.com