The Omen ***** (1976, Gregory Peck, Lee Remick, Harvey Stephens, Billie Whitelaw) – Classic Movie Review 247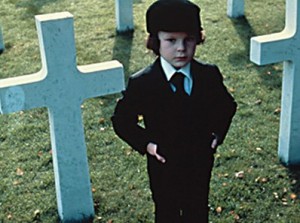 All of the brilliantly staged shocks in this thrilling and clever 1976 classic horror thriller are still eye-catching and chilling. It's very smartly written by David Seltzer and slickly directed by Richard Donner.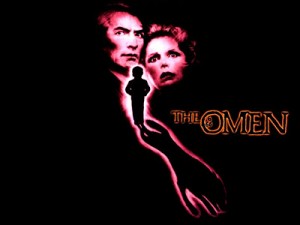 Gregory Peck and Lee Remick star as Robert and Katherine Thorn, who are delighted to find themselves in London as the new American ambassador to Britain and his wife. However, Peck is less pleased to find that their son Damien (a chilling Harvey Stephens), secretly swapped for their stillborn child at birth at 6.00am on 6 June in Rome, has the devil's mark of 666 on his head. He is the Antichrist with diabolical powers who intends to kill everyone who gets in his way!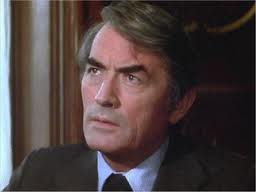 Where this movie has the edge over its respectful 2006 remake is its ultra-eerie, super-tense atmosphere, and its sweaty-palmed series of brilliantly staged set pieces, with the exits of priest Patrick Troughton and photographer David Warner particularly memorable.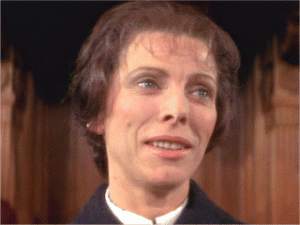 The other clear advantage it has is the brilliantly classy acting from the vintage cast. Peck and Remick are just perfect, credibly troubled and tormented, Billie Whitelaw has a great time and is astoundingly creepy as Damien's sinister housekeeper pal Mrs Baylock, while Troughton and Warner are so much better as the understandably anxious Father Brennan and Jennings than Pete Postlethwaite and David Thewliss in the remake that it hurts.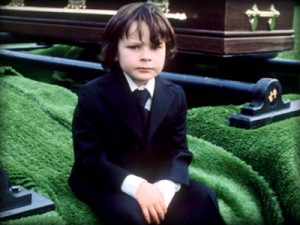 Jerry Goldsmith's excellent, drivingly eerie classic score pounds things along. It's a special, exciting soundtrack, so the movie sounds great. Goldsmith won an Oscar for Best Original Score and was nominated for the song 'Ave Satani'.
And Gilbert Taylor's cinematography in London and Rome makes it look great too.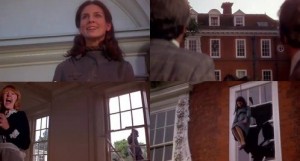 With audiences thrilling to its dynamic, continuing sequence of expertly handled, edge-of-seat horror sequences, it was a big hit. And, unlike many 70s movies, it's ageing well and deservedly remains popular and respected.
It is the last film of Anthony Nicholls (as Dr Becker), who died in February 1977. Stephens has a cameo as a tabloid reporter in the 2006 remake.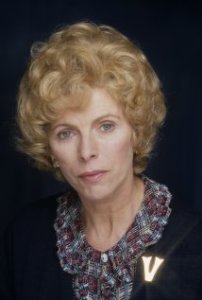 Billie Whitelaw died on , aged 82. She won the Evening Standard British Film Award for Best Actress  in The Omen.
Damien Omen 2 (1978), The Final Conflict (1981) and Omen IV: The Awakening (1991) followed.
http://derekwinnert.com/the-omen-2006-classic-film-review-248/
© Derek Winnert 2013 Classic Movie Review 247
Check out more reviews on http://derekwinnert.com/