The Boys from Brazil *** (1978, Gregory Peck, Laurence Olivier, James Mason, Lilli Palmer, Uta Hagen, Steve Guttenberg, Denholm Elliott, Rosemary Harris) – Classic Movie Review 4040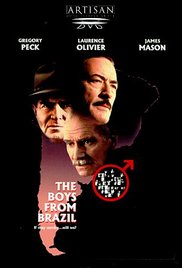 Though battling ill health, the 70-year-old Laurence Olivier as an elderly Jewish Nazi hunter, based loosely on Simon Wiesenthal, is the best and classiest thing about director Franklin J Schaffner's 1978 big-budget British movie version of Ira Levin's ingenious best-selling 1976 thriller novel for Sir Lew Grade's ITC company. Olivier received an Oscar nomination for Best Actor, following his Best Supporting Actor nomination for Marathon Man (1976), in which he played a Nazi war criminal. The film was nominated for three Academy Awards at the 1979 Oscars but failed to win any.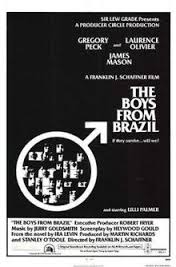 Steve Guttenberg (just 20) is also excellent as young Nazi hunter Barry Kohler, who tracks down a group of former SS officers meeting in Paraguay, where he uncovers a sinister, bizarre plot to re-establish the Third Reich. Kohler alerts Olivier's old Nazi hunter Ezra Lieberman, who visits homes in Europe and the US to try to reveal the Nazi plot.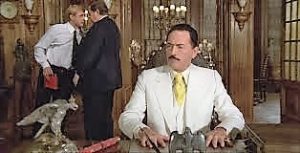 Alas, Gregory Peck is not quite as convincing as the notorious real-life Auschwitz doctor and war criminal Dr Josef Mengele (The Angel of Death'), who is leading the Paraguay Nazis and breeding a master race of Hitler clones. It was was the first really villainous role of Peck's career. To look like Mengele, he had his hairline shaved and his eyebrows cropped,he  put on a Hitler moustache and added white make-up to his face. Peck was hurt by adverse reviews: 'I felt that I was good in this part. Some critics seem unwilling to accept actors when they break what they think is the mould or the image.'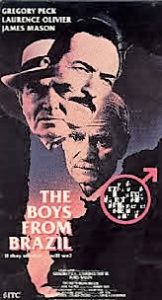 Schaffner's movie is gripping, old-fashioned entertainment though, despite the absurdities as adapted here in the screenplay by Heywood Gould. It also stars James Mason as Eduard Seibert, Lilli Palmer as Esther Lieberman, Uta Hagen as Frieda Maloney, Denholm Elliott as Sidney Beynon and Rosemary Harris as Mrs Doring.
Also in the cast are John Dehner, John Rubinstein, Anne Meara, David Hurst, Michael Gough, Prunella Scales, Bruno Ganz (as Dr Bruckner), Linda Hayden, and Walter Gotell, and introducing Jeremy Black as the cloned children of Adolf Hitler.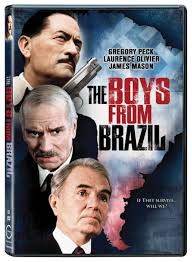 [Spoiler alert] At the time of filming, Mengele was still alive in São Paulo, Brazil. The film takes place from November 1978 to February 1979, shortly after the fictionalised Mengele's death. Bizarrely, the film accurately predicts the month of the real Mengele's death as he died on 7 February 1979, aged 67, four months after the film was released.
Grade and Schaffner clashed over the amount of blood seen in the film as the producer wanted a PG rating for sales. It ended up in the UK with an X original cinema rating and an 18 video rating, and R rated in the US.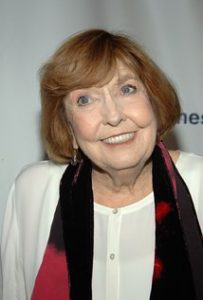 Anne Meara, the Emmy and Tony nominated comedian long paired professionally with and married to Jerry Stiller and the mother of actor-director Ben Stiller, died on 23 May 23 2015, aged 85.
© Derek Winnert 2016 Classic Movie Review 4040
Check out more reviews on http://derekwinnert