The Mummy **** (1932, Boris Karloff, Zita Johann, David Manners, Edward Van Sloan) – Classic Movie Review 99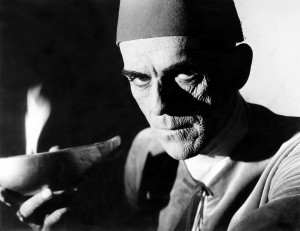 'Kheb, khebet…' – Karloff swears destruction as Imhotep (though ironically in real-life his name meant 'He who comes in peace is with peace.')
Now a star since the previous year's Frankenstein, Boris Karloff is on fine menacing, low-key chilling form as The Mummy, a mysterious yet deadly monster, in this delightfully weird 1932 Universal Studio horror movie, lit up with great visual style and other-worldly atmosphere. In his debut as director, esteemed German cameraman Karl Freund achieves a suitably creepy mood and eerie, striking images, thanks to his brilliant skills as a cinematographer.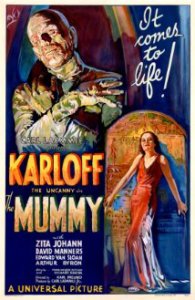 In the story by Nina Wilcox Putnam and Richard Schayer, Karloff, who 3,000 years ago was the Egyptian prince Imhotep, buried alive for sacrilege, is brought to life by English professor Sir Joseph Whemple (Arthur Byron) on an archaeological trip to Egypt in 1921. The Scroll of Thoth is found in Imhotep's tomb. Fortunately or unfortunately, it can bring folk back to life, as a hapless member of Byron's expedition finds when he reads it out loud, reviving Imhotep and sending crazy himself. Well, it would be a bit of a jolt, wouldn't it?
A decade later, Karloff's lonely, unloved Imhotep, now in disguise as a present-day local called Ardath Bey, tries to find his long-lost beloved princess of all those years ago. But he finds a wide-eyed Englishwoman called Helen Grosvenor (Zita Johann) instead. Turns out she is the reincarnation of his lost love. Handy that, huh?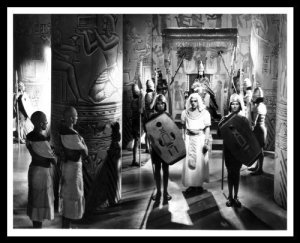 Freund's best film at Universal, this well-regarded, fondly admired vintage chiller is now esteemed as a minor classic of the horror genre. There's plenty of charm and entertainment value to be found, even if some allowances may have to be made in what is a bit of a curate's egg.
Be prepared for a rather slow pace, a cheapish-looking production with sets that are far less impressive than those in Frankenstein and Dracula, not too much story development and some shaky dialogue. On the other hand, the set-up is a very good one, Charles Stumar's cinematography is outstanding and there are also some fine, offbeat lines for the actors to chew on (Imhotep:' Excuse me, I dislike being touched, An Eastern prejudice').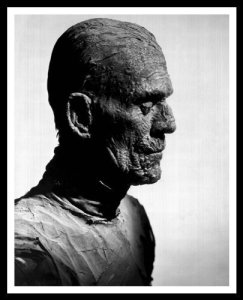 Admittedly, there is over-wrought acting from Zita Johann and David Manners (as Frank Whemple). But the rest of the well-chosen cast are all good, especially the reliable Edward Van Sloan who plays Dr Muller, a variant on his Dr Van Helsing character in Dracula. James Dietrich's score is effective, but why does it use Tchaikovsky's Swan Lake as its theme music in the opening credits?
The Mummy make-up design is by the legendary genius Jack P Pierce, who did the Frankenstein Monster and Dracula make-up. It's based on the look of Ramases III. Karloff was unable to go to the bathroom. He told Pierce: 'Well, you've done a wonderful job but you've forgotten to give me a fly!'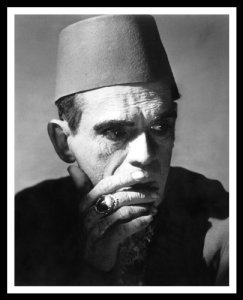 Zita Johann disliked Freund, foolishly claiming he was an incompetent director. Perhaps he wasn't giving her enough close-ups.
The film was originally written as Cagliostro, the story of a Frenchman who supposedly had lived several centuries. After the popularity surrounding the discovery of Tutankhamun's tomb, it was re-written by Frankenstein's John L Balderston as Imhotep and only changed to The Mummy just before release. The real Imhotep was the architect who designed the Pyramids; he was not buried alive but was actually revered and made a god.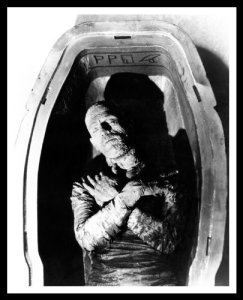 Freund (cinematographer on The Golem and Metropolis) ended up being hired by Lucille Ball as director of photography on her classic 1950s TV show I Love Lucy.
The Hammer Studio's popular series of Mummy films followed from 1959, starting with The Mummy, and the idea was successfully revived in 1999 with The Mummy. A new The Mummy is out in 2017, with Tom Cruise.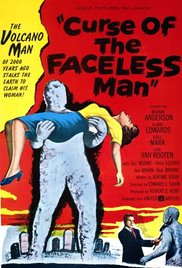 Curse of the Faceless Man (1958) has plot similarities to the 1932 The Mummy.
http://derekwinnert.com/the-mummy-1999-classic-film-review-100/
© Derek Winnert 2013 Classic Movie Review 99
Check out more reviews on http://derekwinnert.com/