The Mummy ***** (1999, Brendan Fraser, Rachel Weisz, John Hannah, Arnold Vosloo, Oded Fehr) – Classic Movie Review 100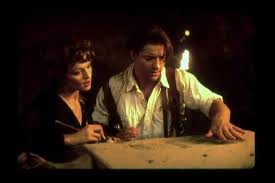 Finally, thanks to the late-Nineties new CGI effects, the cinema found a way of making The Mummy both thrilling and exciting as well as fast and scary, and not just an old geezer wrapped in bandages. Come to think of it, that could be quite scary anyway.
Now in 1999 a bona fide popular movie star thanks to George of the Jungle (1997), Brendan Fraser headlines as Rick O'Connell, a young American adventurer in the French Foreign Legion, who's hired by an English sister (Rachel Weisz) and her brother (John Hannah) deep in the Egyptian desert in the 1920s.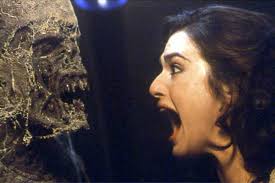 In possibly cinema's only attempt at turning a librarian into an action heroine, Weisz plays a plucky bookworm called Evy Carnahan, who wants to start an archaeological dig with her brother Jonathan at the ancient Egyptian city of Hamunaptra. She enlists O'Connell's help after saving his life when he was arrested and about to be hanged.
The trio unexpectedly find another handful of people searching for a long-lost treasure and reluctantly join them. But soon they all find themselves unearthing a 3,000-year-old legacy of terror, the curse put on the high priest Lord Imhotep.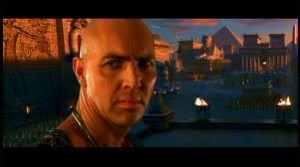 This thrilling Indiana Jones-style adventure with a horror spin is just huge, old-fashioned fun, a marvellous, super-confident throwback to Hollywood's golden era. A non-stop action epic with dazzling special effects, top-notch acting and superb story-telling, it's unstoppable entertainment from writer-director Stephen Sommers. Rarely has a movie been quite so likeable.
Charming, handsome and athletic Fraser is ideal and makes a stupendous young hero. Weisz is an appealing feisty heroine and Arnold Vosloo is absolutely superlative as The Mummy, the high priest Lord Imhotep, and Oded Fehr is excellent as Ardeth Bey, Boris Karloff's old part. Commendably, Hannah handles the rather thankless task of the comedy relief with some style and conviction.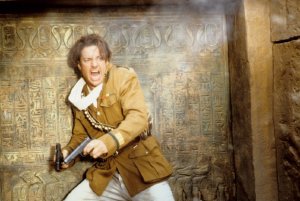 Totally reinventing and reinvigorating the old story, this is a remake of the 1932 and 1959 films of The Mummy. Sequels: The Mummy Returns (2001), with all three stars, and The Mummy: Tomb of the Dragon Emperor (2008) with just Brendan Fraser and John Hannah.
The Universal Monsters Shared Universe franchise will kick off with The Mummy reboot in 2017 with Tom Cruise. The slate of films will also include remakes of The Wolf Man, Frankenstein, The Creature from the Black Lagoon and Van Helsing.
http://derekwinnert.com/the-mummy-returns-2001-brendan-fraser-rachel-weisz-classic-film-review-1120/
http://derekwinnert.com/the-mummy-tomb-of-the-dragon-emperor-2008-brendan-fraser-jet-li-classic-film-review-1121/
© Derek Winnert 2014 Classic Movie Review 100
Check out more reviews on http://derekwinnert.com/