Dracula ***** (1931, Bela Lugosi, Helen Chandler, David Manners, Edward Van Sloan, Dwight Frye) – Classic Movie Review 89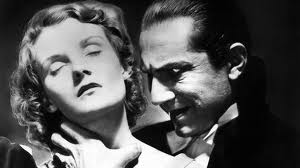 One of the all-time-great, ultimate vampire movies, director Tod Browning's 1931 film is essential viewing. It is based on the Hamilton Deane and John Balderston hit play version of the Bram Stoker novel, which was first staged in London in 1925, followed by Broadway in 1927, where it ran for 261 performances and also starred Bela Lugosi and Edward Van Sloan.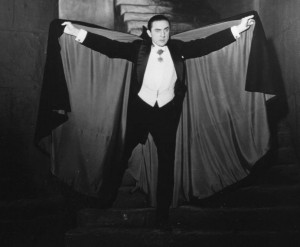 In an iconic appearance that's never faded and continues to impinge on the culture, Lugosi ('I am Dracula. I bid you welcome… Listen to them. Children of the night [wolves], what music they make') re-creates his theatre role magnificently, and with great eerie, other-worldly authority. The film's first, virtually silent reel, with a bat leading estate agent Renfield (a wildly over-acting Dwight Frye) along the way to Castle Dracula in Transylvania, is the best.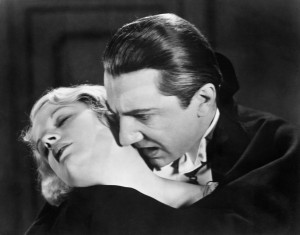 Later the film becomes a little static and tends to become a bit hammy when the Count visits England by ship and enters the bedroom of desirable heroine Mina Seward (Helen Chandler) after he is transformed into a bat. It remains mesmerising throughout, though.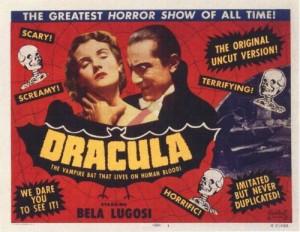 Essential viewing, this is a milestone horror film that started the whole run of fantasy chillers. As a film of its great age, it may in itself sometimes seem rather creaky, stagey, shakily filmed and falteringly paced, but you can forget all that. Overall, it's fascinating, even completely riveting, for its creepy atmosphere, weird ideas, quotable dialogue, amazing sets (especially of the castle and Carfax Abbey) and moody images.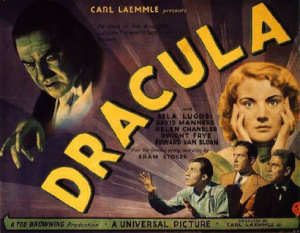 Above all, the sinister, sonorous Lugosi, Edward Van Sloan's commanding Dr Van Helsing and Karl Freund's beautifully poetic cinematography still combine to help produce a chillingly magnetic experience. It seems to capture the spirit of Bram Stoker perfectly.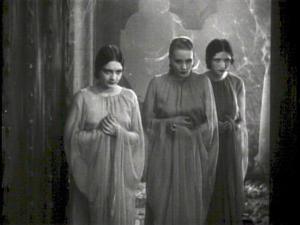 The original end, in which Van Sloan warned the audience that there really are vampires, has been mysteriously cut, leaving the present finish with the young lovers leaving him in the abbey vaults with the finally dead Dracula, very abrupt. This cut was made for a 1936 re-release, and the footage is now lost.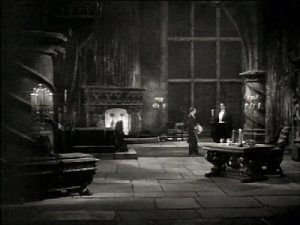 The Universal Studio bought the rights for the play so that they could provide a vehicle for Lon Chaney Snr (The Phantom of the Opera), but he died of lung cancer in 1930 (at only 47) and Lugosi inherited it. This is fortunate for film history and a just result honouring Lugosi. When he died on 16 August 1956, aged 73, he was buried in the black silk cape he wears in the film.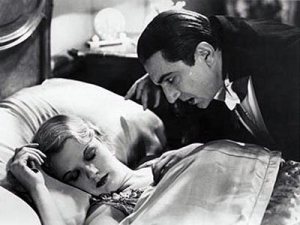 The 1999 re-release is very welcome thanks to a typical driving score by Philip Glass, which runs almost non-stop and propels the film marvellously. The original is virtually music-free, apart from only fragments of Tchaikovsky's Swan Lake, moments of Schubert's Symphony No 8 and snatches of refrains from Wagner.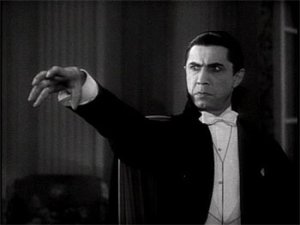 Among the many follow-ups to this, the first sequel is Dracula's Daughter (1936) without Lugosi, unfortunately. Oddly, Lugosi played Dracula only once more, in the silly Bud Abbott and Lou Costello Meet Frankenstein (1948). But Browning directed Lugosi in another important vampire movie, Mark of the Vampire (1935).
Check them all out: Frankenstein (1931), The Invisible Man (1933), Bride of Frankenstein (1935), Dracula's Daughter (1936), Son of Frankenstein (1939), The Invisible Man Returns (1940), The Invisible Woman (1940), The Wolf Man (1941), The Ghost of Frankenstein (1942), Invisible Agent (1942), Frankenstein Meets the Wolf Man (1943) and Son of Dracula (1943).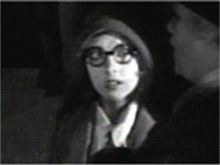 Carla Laemmle, who plays Coach Passenger in Dracula, died on June 12 2014, at her Los Angeles home, aged 104. In the role, she goes down in history as speaking the first line of dialogue in any horror film. She portrays uncredited a bespectacled passenger riding in a bumpy horse-drawn carriage with Renfield as he is traveling to Dracula's castle. In the documentary The Road to Dracula (1999), Laemmle proudly states: 'I had the privilege of speaking the first lines of dialogue in the first talking supernatural thriller.'
She was a bit player in a handful of silent movies and at the dawn of the sound era, including also The Phantom of the Opera (1925) in an uncredited role as a ballet dancer, and a niece of Universal Studios co-founder Carl Laemmle. She been in good health.
Born Rebekah Isabelle Laemmle on October 20 1909, in Chicago, Carla Laemmle was less known for her movie work than for having survived almost all of her contemporaries and for her family connection to the Universal mogul. Her father, Joseph Laemmle, was Carl's brother. Poet Ogden Nash joked: 'Uncle Carl Laemmle, Has a very large faemmle' in reference to Laemmle's liking to hire family members. Carla was a fondly remembered member of Carl Laemmle's 'very large faemmle'.
As such, she was the last surviving cast member of both The Phantom of the Opera and Dracula.
An original poster for Dracula went for $535,800 at an auction in Dallas, Texas, in December 2017, making it the most expensive film poster ever sold by auction. Ed Wood, a fan of Bela Lugosi, found him living in obscurity and near-poverty but one copy of his Dracula poster is worth $535,800. As Boris Karloff said: 'Alas poor Bela!'
Heritage Auctions of Dallas said: 'Prior to the recent discovery of this stone litho beauty, only one other copy of the style A format has ever surfaced, a rare find unearthed in the early 1990s.'
The previous record at auction sales was held by posters for Casablanca and for London After Midnight, both selling for $478,000. A poster for Metropolis sold for a record $690,000 at a gallery sale in 2005.
http://derekwinnert.com/dracula-1958-classic-film-review-90/
http://derekwinnert.com/bram-stokers-dracula-classic-film-review-244/
© Derek Winnert 2013 Classic Movie Review 89 derekwinnert.com
Link to Derek Winnert's home page for more film reviews: http://derekwinnert.com/