The Girl Who Played with Fire [Flickan som lekte med elden] *** (2009, Noomi Rapace, Michael Nyqvist, Lena Endre) – Classic Movie Review 6098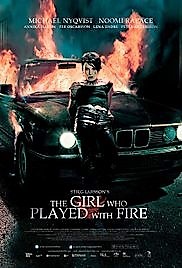 The second part of the Swedish-language thriller based on Stieg Larsson's novels about the disgraced financial campaigning journalist Mikael Blomkvist (Michael Nyqvist) and the troubled, tattooed young computer hacker Lisbeth Salander (Noomi Rapace) picks up immediately where part one, The Girl with the Dragon Tattoo, left off.
The injured Lisbeth is accused of the three murders, leading her to go on the run, while Mikael works to help her clear her name, while at the same time investigating a sex-trafficking ring and the abuse of underage girls for his Millennium magazine.
Director Daniel Alfredson's 2009 The Girl Who Played with Fire [Flickan som lekte med elden] is still a good movie mystery thriller. It is both powerful and intelligent. It certainly does hold the attention through its long running time of 129 minutes. But, nevertheless, this time it feels a bit disappointing and a slight letdown. It is still quite involving but it is more muddled and generic.
With the screenplay Jonas Frykberg based on Stieg Larsson's novel, the labyrinthine plot is not as strong or as intricate as the one in The Girl with the Dragon Tattoo.  And the film is not nearly as riveting, stylish, intense – nor as credible – as the first one.
Less compulsive and with anonymous direction, it plays no better than a good TV movie now. But that should be enough for the many fans. Still Nyqvist and Rapace are an astonishingly classy double act. It is a shame the script keeps them apart so much.
It is powerful material, with brutal violence, including a rape, some strong sexual content, nudity and strong language.
The final part of the trilogy, The Girl Who Kicked the Hornet's Nest, followed in 2009.
aged 56.
© Derek Winnert 2017 Classic Movie Review 6098
Check out more reviews on http://derekwinnert.com