The Girl Who Kicked the Hornet's Nest [Luftslottet som sprängdes] *** (2009, Noomi Rapace, Michael Nyqvist, Lena Endre ) – Classic Movie Review 6099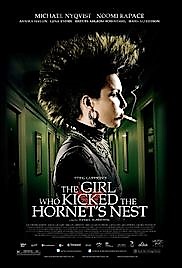 The final part of the Swedish-language thriller trilogy based on Stieg Larsson's novels about the disgraced financial campaigning journalist Mikael Blomkvist (Michael Nyqvist) and the troubled, tattooed young computer hacker Lisbeth Salander (Noomi Rapace) picks up immediately where part two, The Girl Who Played with Fire, left off.
It starts with Lisbeth being rushed to hospital, where she is slowly recovering under police guard and awaiting being put on trial for three murders. It is up to Mikael somehow to show she is innocent, while Lisbeth must take some more violent direct action again and finally wash her dirty linen in court.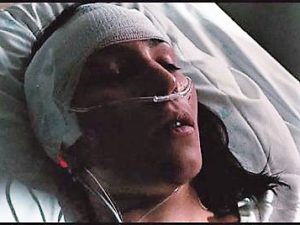 Told at epic length of 146 minutes, part three continues the decline in quality of the film trilogy from the very high level of the first one, The Girl with the Dragon Tattoo. Again the movie is still quite involving but the story-telling is more muddled and more generic. Less compulsive as a movie version of a page turner, and with totally anonymous, style-free direction by Daniel Alfredson, it plays no better than a good TV movie now, yet that might be enough for the fans.
Still, once more, Nyqvist and Rapace are an astonishingly classy double act, but again it is a shame that Ulf Rydberg's screenplay keeps them apart so much.
The American remake of The Girl with the Dragon Tattoo followed in 2011 to disappointing box office, ending the series. But in 2017 Sony are rebooting the franchise with a film of the fourth book, The Girl in the Spider's Web, with Claire Foy replacing Rooney Mara as Lisbeth Salander, upsetting Ms Mara.
© Derek Winnert 2017 Classic Movie Review 6099
Check out more reviews on http://derekwinnert.com